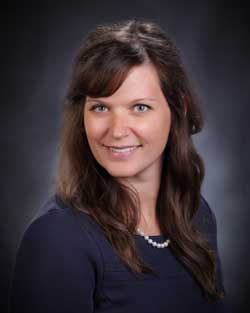 07/01/2014

Gemma Rinefierd has joined SUNY Cortland as director of the Student Conduct Office, where she engages in promoting student conduct and enforcing the educational philosophy of the College.
The Cortland native most recently served since January 2011 as deputy director of student support for residence life and associate proctor of residents' conduct in the Academic Section at the University of Essex in Colchester, England.
Rinefierd, who began her duties May 5, oversees the College's Code of Student Conduct and the process associated with violations of its policies. Along with her staff, she administers a program that informs students of their responsibilities as members of a campus community that involves students, faculty and staff members.
Rinefierd reports to Christopher A. Kuretich, assistant vice president of student affairs. She replaces Michael Pitaro, associate director of student conduct, who served as interim director since March 2014.
Rinefierd earned her Doctorate of Education, Educational Leadership, and her Certificate in Program Evaluation from the Margaret Warner School of Education and Human Development at the University of Rochester. She received her Master of Science in Higher Education Administration from Syracuse University and her Bachelor of Arts in English Literature from the University at Albany.
Her previous experience includes serving as area coordinator in the Office of Residential Life at the University of Rochester, assistant director of residential life at Hamilton College and graduate residence coordinator at Syracuse University.
Rinefierd is the granddaughter of James F. Casey '53, the namesake of SUNY Cortland's Casey Tower residence hall, and the James F. Casey Scholarship. The former director of housing at SUNY Cortland, Casey began working in the College housing office in 1965, continuing there until his death in 1981. Casey Tower was dedicated in 1983 to honor his service to the College.
---