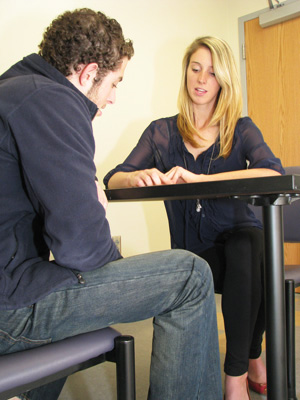 11/19/2012

Mary Theresa Muldoon wants to be a teacher, not a movie or television star.
Just the same, Muldoon and four other aspiring science educators pursuing master's degrees at SUNY Cortland recently went on camera, opposite trained actors, to do some improv.
The aspiring teachers weren't auditioning for a film role. They were each the star of a videotaped, simulated scenario featuring the routine challenges secondary schoolteachers face when teenage students need extra help.
"This gives them a chance to begin synthesizing that they've learned and begin putting it into play right then and there," said Benjamin Dotger, an associate professor of teaching and leadership at Syracuse University who has adapted the videotaped role playing used by medical students for use by aspiring teachers. "The real world of working in a classroom is very fast. Kids ask questions. You get interrupted. Content must be delivered. Parents make phone calls. Teachers will tell you they don't have much opportunity to sit down and plan how they will respond to this question or this worry."
Future doctors and other health care professionals have participated in such simulated "patient" meetings since the mid-1960s, Dotger said. Through a partnership with SUNY Upstate Medical University in Syracuse, N.Y., he developed the School Leader Communication Model, a tool that extends the use of simulations to help prepare future teachers through simulated "student" and "parent" meetings.
This semester, five SUNY Cortland education master's candidates participated in Dotger's teacher simulations inside Setnor Hall on the SUNY Upstate Medical University campus. In these pilot clinical simulations, an actor portrayed a "standardized" student who responded to the future educators' explanations of course material in ways that prompted them to explain the lesson over again in several different ways. The simulated "student" followed a tightly controlled script, but each "teacher" was free to respond as he or she felt best.
Mary Theresa Muldoon, left, who hopes to teach biology in middle or high school one day, recently took part in a meeting with an actor pretending to be a high school student struggling with a graph interpretation of plant succession.
Each session was captured on dual video cameras for live viewing, either from a nearby computer lab screen or before a group of analysts in an adjacent conference room.
After the simulated meetings inside the lab booths, Muldoon and the other students met in an adjacent conference room with the simulation managers. They each took turns with confidential critiques on how they had handled their faux "client," actually a local college student trained to offer variations on the glassy-eyed "I just don't get it" responses of a struggling young scholar.
"Once I was into it, this wasn't like I was talking to an actor at all," said Muldoon, a graduate student in adolescence education: biology, from Endicott, N.Y. "I just got into the moment."
Muldoon's simulation required her to help the confused "student" understand a graph showing plant succession after a sudden clearing of foliage.
She and a classmate had done their best to analyze the graph in preparation for the interview, during the shuttle drive from Cortland to Syracuse.
"I was excited and happy to be able to take part in the simulation because it's the beginning of a new chapter in teacher education," said the classmate, Jennifer Sadallah, a graduate student in adolescence education: biology from New Hartford, N.Y.
"I had a good experience in a simulated discussion on topics that are tricky, controversial and difficult to teach," Sadallah said. "We did a previous simulation on a controversial topic, evolution. We later talked about it and I was provided feedback.
"It made me think, 'Was I going enough into depth?'" she said.
Patient simulations were created to give physicians an opportunity to practice the knowledge and skills learned in traditional medical-school classrooms in real-life situations without harming patients, Dotger explained.
"The idea of a clinical simulation in medicine as well as other settings is to take what the student knows and actually put it to work," Dotger said. "For teachers, it's helping to bridge them away from the traditional ways that they have been taught and toward the daily practices they will engage in. It's engaging with students and parents and principals and colleagues on a daily basis."
Dotger is credited with implementing the Standardized Parent Conferencing Model, a teacher development tool that uses role-playing parents and students to recreate interactions a teacher may encounter in the classroom.
"I insist they take part in at least two simulations," Dotger said. By the third or fourth or fifth simulation, we can usually see a marked improvement in their performance. They forget the camera and the fact they're in the clinic and they really focus on the fact that 'Here's a real student sitting across from me who's asking questions about math or science or who has a real concern about their struggles at home ...'
"It gives the participants a shared, common experience," Dotger said. "They all engaged with the same student who is struggling to interpret a graph. They all had chances to practice working with that student based on their own teacher skills."
The exercise gives students and observes a good idea of what where the participant is strong and where there's need for improvement. finds that participants are sometimes forced to face their own misconceptions.
Beyond the five aspiring science students, Dotger hopes to involve more SUNY Cortland students — and faculty members as observers — in his science, technology, engineering and math trial simulations.
Angela Pagano, an associate professor of biological sciences and SUNY Cortland's co-coordinator of Adolescence Education: Science Program, presented her class with the option to attend their weekly class or make the two necessary field trips to Syracuse to participate in Dotger's pilot study of the school preparation clinical simulation.
"I just threw it out there to my students," said Pagano, a Biological Department faculty member in the College's School of Arts and Sciences. "It was an opportunity to have a hands-on experience." Creating real-life learning opportunities is a primary educational objective at SUNY Cortland.
Five hands went up. Joining Muldoon and Sadallah for the field trip were two other adolescence education: biology majors and one adolescence education: earth science major.
"We're like the pioneering students," said Muldoon, enthusiastically striking a George Washington-gazing-across-the-Delaware River pose.
"No one's getting hurt; no one's being taught the wrong thing," Pagano said, stating one benefit of performing such a meeting before a future educator becomes a teacher and does the real thing.
The education students also appreciated having kind but discerning peers review their individual actions. Some even identified their own shortcomings to the group. A few observed that the second time around, they had corrected a problem that was noticed in the first; for example, the tendency to frequently interrupt the actor.
As the second field trip wrapped up, Dotger met in a small room with the five participants from SUNY Cortland and other area universities. Their critique will serve to refine future simulations.
Dotger, whose work is currently supported by the National Science Foundation and the Arthur Vining Davis Foundations, has twice visited SUNY Cortland to discuss his work with the campus community, most recently on Oct. 30.
His pilot study involving SUNY Cortland students will be repeated next spring.
"I want the number of SUNY Cortland participants to grow, but I want them to engage as they feel comfortable," Dotger said. "There's a lot of work out there and I hope that others can join in."
It's not out of the question for SUNY Cortland faculty and staff to adopt his final teacher-student conference simulation model for future replication on the College's own campus.
"My job is to make sure the simulation documents and simulation procedures are up and running and work well so SUNY Cortland doesn't have to reproduce the simulations themselves," Dotger said. "I can help support them."
---