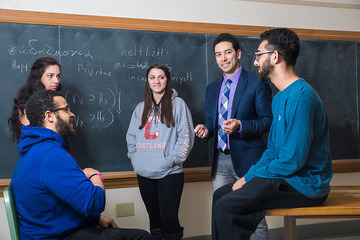 09/12/2017

Strengthened by one of the highest graduation rates in the SUNY system, SUNY Cortland this year continued to rise in U.S. News & World Report's annual ranking of the "Best Colleges" in the nation.
SUNY Cortland was ranked 48th in the news organization's survey of what it considers the best regional universities in the Northeast, according to results released today by U.S. News & World Report.
That puts Cortland among the top 25 percent of all four-year, higher education institutions in the highly competitive region, which includes 287 schools across New York, Massachusetts, Connecticut, Vermont, New Hampshire, Rhode Island, Delaware, Maine, New Jersey, Pennsylvania, Maryland and Washington, D.C.
"We are grateful for the acknowledgement, but we are not surprised; SUNY Cortland is a very strong academic institution," College President Erik J. Bitterbaum said. "Positive rankings like this are nice, but prospective students and parents need to research schools themselves and visit campuses to find the right fit."
"Best Colleges 2018" marks a 13-place improvement for SUNY Cortland, which placed 61st in last year's rankings and was 74th in "Best Colleges 2016." Standing out among the many factors used to determine the ranking was the College's 75-percent, six-year graduation rate; its highest in three decades. Of the SUNY comprehensive colleges that made the U.S. News & World Report rankings, only one — SUNY Geneseo — had a better graduation rate.
"Each of SUNY's 64 colleges and universities help our students find their purpose and their passion. Whether it's in research, education, outreach, or engagement, our colleges and universities strive to achieve excellence in everything they do," said SUNY Chancellor Kristina M. Johnson. "We are thrilled that so many of our SUNY campuses have again received favorable rankings by U.S. News & World Report. While we appreciate that rankings are one indication of quality, it does help demonstrate that SUNY is one of the best national education systems. Congratulations to each of the SUNY campuses recognized by the 2018 U.S. News and World Report rankings."
The U.S. News & World Report survey is SUNY Cortland's most recent recognition on the national stage. This summer, Money magazine rated Cortland in the top 5 percent of "best value" colleges in the United States.
The Princeton Review, meanwhile, recently rated SUNY Cortland among the best colleges in the Northeast and one of the "greenest" schools in the nation. The Sierra Club echoed that "green" rating, naming SUNY Cortland to its most recent "Cool Schools" rankings for the College's commitment to creating an environmentally sustainable culture on campus.
---