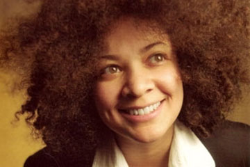 03/27/2017

Acclaimed guitarist, singer and songwriter Pamela Means, whom the New York Times Magazine has described as producing "stark, defiant songs," will attempt to set the status quo and the stage afire on Thursday, April 27, at SUNY Cortland.
Means, a bi-racial, feminist "indie" folk artist from Boston who offers an original and dynamic guitar style and punchy, provocative songs, will perform in concert at 7:30 p.m. in the Brockway Hall Jacobus Lounge.
She also will present a workshop titled "The Role of the Artist in Social Change" earlier that day at 4:15 p.m. in Old Main, Room G-12.
The performances, which are free and open to the public, comprise a Women's History Month event originally scheduled for March 30.
Means' performances have been credited with bringing the struggle for social justice and human dignity to the forefront of a new generation.
"She is an amazing jazz-influenced guitarist whose songs speak to the intersectionalities of gender, race and class," said Colleen Kattau, a SUNY Cortland associate professor of Spanish, herself a singer-songwriter and performer. "She is a powerful and authentic performer."
"Turns pain into perfect art," wrote a reviewer for No Depression, the journal of roots music, about her new solo acoustic album, "Plainfield."
Consistently honing her craft, Means garnered acclaim with her seminal jazz recording, the "insanely brilliant" (Press Herald, Portland, Maine), "Pamela Means Jazz Project, Vol. 1," in which, "Means takes her rightful place among contemporary superstar jazz vocalists such as Cassandra Wilson and Norah Jones" (Curve Magazine).
She was honored as the Falcon Ridge Folk Festival's "Most Wanted New Artist" and Wisconsin's "Folk Artist of the Year" and "Female Vocalist of the Year." Means was also a Boston Music Award Nominee in the category of "Outstanding Contemporary Folk Artist."
She has shared the stage with artists including Ani DiFranco, Joan Baez, Neil Young and Pete Seeger.
Means performs at clubs, coffeehouses, colleges and festivals across the country, including the Newport Folk Festival, Falcon Ridge Folk Festival and the South by Southwest Conference. She is a favorite at regional gay pride events. Her work is inspired by the words of the poet Audre Lorde, who wrote, "I am myself a Black woman warrior poet doing my work, come to ask you, are you doing yours?"
Co-sponsors of the event include the Women's, Gender and Sexuality Studies Program, Center for Gender and Intercultural Studies, President's Fund, Campus Artist and Lecture Series, Auxiliary Services Corporation and the Sexual Orientation, Gender Identity, and Gender Expression Committee.
Means has a website about her work: www.pamelameans.com. For more information, contact Kattau at 607-753-2025.
---