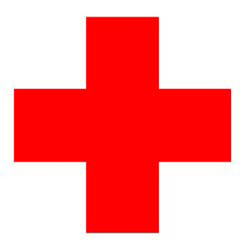 04/14/2014

SUNY Cortland Emergency Medical Services (EMS) and a University Police Department (UPD) officer will be honored Wednesday at a local American Red Cross event highlighting heroic, potentially life-saving acts.
The American Red Cross chapters of Cortland and Tompkins counties will host the fourth annual Cortland-Tompkins Real Heroes Breakfast at 8 a.m. Wednesday, April 16, at Greek Peak Mountain Resort. The awards ceremony recognizes community members who have performed acts of courage, compassion and character over the past year.
UPD officer C. Austen will be awarded the 9-1-1 Dispatch Award for the first aid response he offered during the summer. In August, Austen responded to a Cortland city police dispatch reporting a wounded man on Tompkins Street. He rushed to the scene to find the man bleeding from the cheek and neck, then immediately performed first aid to slow the bleeding.
Austen, who was nominated by UPD Chief Steven Dangler for his speedy response and use of medical training, rode to the hospital in an ambulance with the victim to keep pressure on the wounds. He is credited with helping to save the victim's life.
SUNY Cortland EMS will receive the Youth Good Samaritan Award for its consistent dedication to the College and surrounding community. The first-response unit is made up of more than 60 student volunteers who are trained in basic life-support skills and who are available 24 hours a day, seven days a week.
EMS typically receives more than 200 calls each year, and the squad provides immediate care and reassurance until an ambulance arrives at an emergency scene.
Other 2014 Real Heroes from Cortland and Tompkins counties include volunteer firefighters, police officers and community members who responded to emergencies with first aid and cardiopulmonary resuscitation.
For more information, contact Michele Whalen, the Cortland branch manager for the American Red Cross, at 607-753-1182.
---