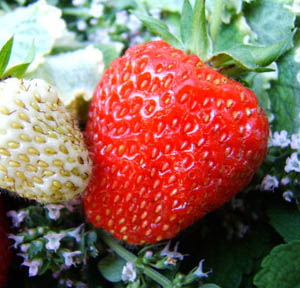 04/16/2013

It's easy for college students to be blissfully vague about where their food comes from, especially in the case of urban youth who have grown up far from fields, pastures and barnyards.
The farm-to-table connection will become much clearer for SUNY Cortland students after Tuesday, April 23. That's when a group of environmentally conscious campus members will gather on the east side of Neubig Hall to turn the shovel on the College's first campus vegetable and herb garden.
Visitors at the 3 p.m. event — the rain date will be at the same time on April 25 — are welcome to watch or even roll up their sleeves and help build the raised-bed garden made of wood donated by Gutchess Lumber. The finished row of giant boxes will be filled with fresh compost presented by a local organic grower, Cobblestone Valley Farm.
The groundbreaking ceremony is free and open to the public.
One of many campus events marking Sustainability Month at SUNY Cortland, the gathering was scheduled by the College's Sustainability Committee of the Division of Student Affairs.
The less formal campus garden committee has been planning to turn the earth on the vegetable patch since last fall and conceived the garden well before that. The campus garden committee is comprised of about 20 interested campus and community members and is chaired by Jeremy Zhe-Heimerman, coordinator of assistive technology and test administration for Student Disability Services.
The campus garden project as yet has no formal name. Successive vegetable and herbal crops cultivated in this small patch of tilled soil will educate students on what goes into producing the food supply.
"We'll be looking at some of the ways other colleges that don't have an agricultural program component manage such gardens," Zhe-Heimerman said.
"We would like to show the campus community that you can create gardens that are all self-sufficient, that produce good foods that are healthy and require minimal input," said Steven Broyles, a professor of biological sciences.
To Broyles, a plant biologist, the tilled boxes could yield a cornucopia of learning.
The planned 45-foot by 12-foot campus garden will be built on the east side of Neubig Hall, as shown in the map above.
"I'm hopeful the garden would allow certain classes to use the garden in an educational context," he said. "They could study a sustainable garden by adopting a small part of the garden and raising their own crops to come to a better understanding of what constitutes a healthy diet."
Children from the SUNY Cortland Child Care Center also may experience Mother Nature's year-round cycle of greenery.
"The children can try to grow some peas and learn that they don't come from the store, they come from the ground," Zhe-Heimerman said.
The 45-foot by 12-foot garden — sandwiched between Neubig and the service road that runs behind it — will not generate enough food to be used by campus dining facilities. Instead the produce, harvested in late summer and again during the fall, will feed the local needy.
Sara Watrous is one local community connection. An AmeriCorps volunteer and the program coordinator of Sustainable Cortland, she is working with the committee as a liaison to area organic farmers to obtain plant stock with which to seed this spring's garden bed. Earlier this semester Watrous created demonstrations of foods produced locally by those growers for SUNY Cortland students to nibble. Her organization has donated several hundred dollars worth of tools and garden supplies to the venture.
The garden is designed for ease of care and access, according to Matthew Brubaker, associate facilities program coordinator with the Facilities Planning, Design and Construction Office.
"The roots of this program, no pun intended, started with the Student Life Center and the desire by the Auxiliary Services Corporation to have some sort of a food-related site at the SLC," said Brubaker, a campus garden committee member. "But the area around the SLC will be torn up until the spring of 2015."
William McNamara, the ASC dining services director, said the garden has no direct connection or support from the ASC, though it will sit outside ASC offices and near a major dining hall at Neubig.
"On campus there's always been talk of composting and gardening," said McNamara, who's also on the campus garden committee. "Last year, I visited UMass, which has a demonstration garden that was recognized by the White House. The students were invited to walk through that garden and pick and eat an apple or a cherry tomato. I thought it would be great to have something like that outside of the Student Life Center, which will have a dining facility that emphasizes sustainability."
Although such a project would be several years down the road, ago McNamara mentioned his idea to Broyles. Soon the campus garden committee was considering alternatives. Most members know what they are getting into because they enjoy their own backyard gardens.
"It picked up a lot of momentum from many different people," McNamara said. Neubig chefs might visit the garden occasionally for herbs, McNamara said. But the beds are far too small to supply a college food service.
Awhile ago, Broyles assigned a student to find out what such a project at Cortland would involve. Shelby Persons, a biological science major who graduated in 2012, visited Colgate University and UMass, where she learned that a community garden requires a lot of sweat equity by a large volunteer workforce and to succeed must be highly visible on campus.
Presently the professor proposes that a volunteer position such an AmeriCorps placement be created have year-round, primary responsibility for the garden including the coordination of student volunteers and the distribution of the plot's yield to area food pantries.
"The plot by Neubig Hall is only for one year," McNamara said. "We need to show the campus that anyone can benefit from it. We need to make sure the garden is tended and looks right. And we must show that we can operate it on a small scale year-round in order for this garden to continue."
For more information, contact Zhe-Heimerman or Broyles.
---