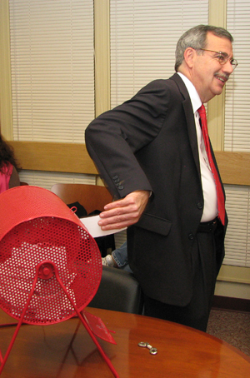 11/18/2014

Black Friday and Cyber Monday deals may have passed, but there's still time to score a big-ticket item for just a tiny fraction of the cost.
SUNY Cortland's annual Super Bowl Raffle offers an expenses-paid trip for two to the big game, which takes place Feb. 1 at University of Phoenix Stadium in Glendale, Ariz.
That means a trip to the warm and sunny Southwest during winter. And this year's deal is twice as sweet because SUNY Cortland is selling raffle tickets for just $50 apiece, or half the cost of a ticket during each of the College's five previous raffles.
This year's drawing will be held Tuesday, Dec. 30, making tickets a great holiday gift option. All entries must be received by Monday, Dec. 22. Sales are open to the public, but participants must be at least 18 years of age to purchase a raffle ticket.
All proceeds support scholarships for SUNY Cortland students.
The grand prize, valued at $4,121, includes two tickets to the game at University of Phoenix Stadium in Glendale, Ariz.; a three-night stay the Best Western Inn and Suites in Youngtown, Ariz.; and $1,000 for travel and other expenses.
The College acquired the tickets through its close ties with the NFL's New York Jets, the team that calls SUNY Cortland its official university partner and summer training camp home. It's the sixth time SUNY Cortland will offer the Super Bowl prize.
Those interested in buying a raffle ticket should send payment — in cash or check — with name, home address, phone number and an email address to Sheila Morse, the financial operations specialist for the Cortland College Foundation, at P.O. Box 2000, Cortland, NY 13045. Checks should be made payable to Cortland College Foundation, Inc.
For more information, contact Morse at 607-753-2532.
---