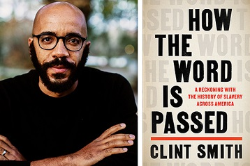 03/23/2021

Clint Smith, an internationally acclaimed writer, poet and educator, will explore the racial issues underpinning American history and culture in a virtual presentation and Q&A session with members of the SUNY Cortland community on April 15.
The event, How the Word is Passed, is being held in conjunction with the Dowd Gallery's current Founder exhibition, which explores similar themes. Lorraine Lopez-Janove, SUNY Cortland's chief diversity and inclusion officer, will moderate the discussion. Artist and Founder creator Andrew Ellis Johnson, a Cortland native whose multi-media work is on display through April 16, will join the conversation with the online audience.
Members of the community can join the 4:30 p.m. event through Webex on April 15.
Smith's presentation is based on his debut non-fiction book, How the Word is Passed, which is scheduled for release in June. In this talk, Smith will discuss how the history of slavery has shaped the contemporary landscape of inequality and shares what he learned from trips to different historical sites throughout the country that are tied to slavery's legacy. His research explores how these places reckon with — or fail to reckon with — their relationship to slavery and how it is our responsibility to collectively document, learn from and account for this history.
Jaroslava Prihodova, director of the Dowd Gallery, said Smith's participation on campus is emblematic of the way artists from different fields can work together to move important ideas and discussions forward.
"His involvement magnifies the underlying social issues visible in works on display," Prihodova said. "The event also addresses crucial conversations about inclusion and anti-racism strategies and policies that our institution and the whole SUNY system have formed.
"I believe that inviting artists, scholars, and individuals into this conversation is a way forward. The Dowd Gallery is committed to celebrating diversity, cultivating a stimulating environment conducive to learning for all students, and providing a climate for creativity and inspiration for faculty, staff, and the wider community."
Smith, a staff writer for The Atlantic, was the 2014 National Poetry Slam champion and a 2017 recipient of the Jerome J. Shestack Prize from the American Poetry Review. He was named to the 2018 Forbes 30 Under 30 list as well as Ebony Magazine's 2017 Power 100 list. His two TED Talks, The Danger of Silence and How to Raise a Black Son in America, collectively have been viewed more than 7 million times.
The program is sponsored by Dowd Gallery, the Art and Art History Department, Art Exhibition Association, Campus Artist and Lecture Series, Center for Ethics, Peace and Social Justice, Economics Department, Foundations and Social Advocacy Department, Haines Fund, History Department, Institutional Equity and Inclusion Office, Provost's Office and the Student Government Association.
Learn more about Founder and other Dowd Gallery exhibitions online.
---