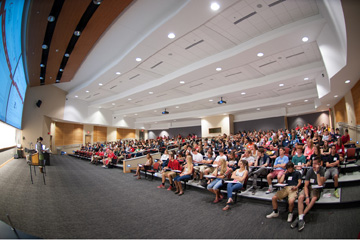 06/17/2015

Accomplished businessman David J. Vittor '67 traces much of his success in the alcoholic beverage distribution industry to a college environment that helped shape him. It's the main reason his generosity has taken the form of scholarship dollars for SUNY Cortland students with financial need.
"Students don't get lost at a place like Cortland," said Vittor, the retired president and chief executive officer of Major Brands, Inc. "It's a special place that prepares young people to succeed."
Vittor, a Long Island native who today resides in Mission Hills, Kansas, marked his latest gift to SUNY Cortland on June 19 at a naming ceremony on campus. Sperry Center, Room 105, one of the largest and most utilized lecture halls at the College, officially was named the David J. Vittor '67 Lecture Hall.
The former education major's lifetime giving to SUNY Cortland exceeds $500,000 — more than half earmarked for the David J. Vittor '67 Scholarship, which assists deserving sophomores, juniors or seniors with financial need. Vittor recalled his own experience coming to Cortland in 1963 from a middle-class upbringing in Levittown, N.Y.
"I don't mean to sound like an old man, but from 1963 to 1967, there were no cell phones, no email, no Instagram," he said. "You actually had to talk to people, and Cortland was an ideal place to do that."
The College's manageable size allowed Vittor to develop interpersonal skills, he said. He studied to become a high school history teacher and joined the Gamma fraternity, which produced friendships that still continue today.
"Gamma was quite a fraternity … it had a lot of diversity," he said. "That was special to me."
Following his college graduation, Vittor returned to Long Island, teaching history and coaching junior varsity lacrosse for a year at Elmont Junior-Senior High School under future hall of famer Richie Moran, who went on to win three national titles at Cornell University.
Vittor's business sense pulled him to a job with Joseph E. Seagram and Sons in New York City in 1968, then to a job in the Midwest with Major Brands by 1972. He spent 40 years with the company based in Kansas City, Mo., working his way up to president, chief executive officer and partner before he retired in 2012.
Under Vittor's leadership, Major Brands grew to be the 10th largest alcohol distributor in the U.S. and the largest in the state of Missouri with more than 650 employees. And through all of his success building an extensive portfolio of brands and a strong reputation for service, Vittor said he continued to tap his SUNY Cortland education.
"My teaching skills were invaluable," he said. "They helped with giving presentations, coaching colleagues … you name it."
Vittor, who has three adult children with his wife Ellice, currently serves as president and chief operating officer of DBV Holdings, through which he established a charitable foundation. He said his favorite causes remain those that benefit children and young adults, and that his alma mater has received his largest gift to date.
"Cortland was a magical place for me and my four years there were important … very important," he said. "I'm fortunate that I did well, and I'm thrilled I can give back."
---