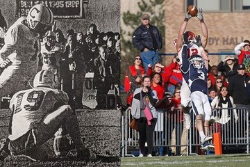 10/08/2019

The annual football series between SUNY Cortland and Ithaca College is one of the best rivalries among small colleges in the nation. With this year's game being contested at MetLife Stadium in East Rutherford, N.J. and set to break a record for the best-attended Division III athletic contest in history, Cortland Sports Information Director Fran Elia is taking a look back at some of the top moments in Cortaca Jug history.
A new moment will be shared in the game notes on CortlandRedDragons.com prior to each SUNY Cortland football game this season. Here's what you've missed so far:
More than 39,000 tickets have been sold for this year's game, which is set for 1 p.m. on Nov. 16 at MetLife Stadium. Tickets are still available through Ticketmaster via CortacaJug.com.
For more information on the game, visit Cortland.edu/cortaca.
---