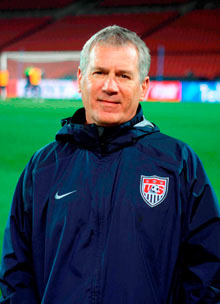 04/13/2011

SUNY Cortland alumnus Bert R. Mandelbaum '75, M.D., a team physician with the U.S. World Cup Soccer Team, will discuss "Orthopedic Concerns in Soccer" during SUNY Cortland's one-day Sports Medicine Symposium for professionals and students on Friday, April 22.
Registration for the day's program, which includes lunch, costs $25 for the public and $10 for students. Mandelbaum's session, scheduled from 2 to 3 p.m., is free and open to the public.
For more information, or to register for the symposium, contact Philip Buckenmeyer, associate professor and chair of kinesiology, at (607) 753-4300 or via email.
The conference will run from 8:50 a.m. to 3:15 p.m. in the Corey Union Function Room.
Mandelbaum, a 1975 SUNY Cortland graduate and an orthopedic surgeon with the Orthopedic Surgeon Group of Santa Monica, Calif., served as team physician to the U.S. World Cup team four times between 1994 and 2006. He was chief medical officer during the 1999 Women's World Cup. Mandelbaum is currently head orthopedic physician at Pepperdine University and assistant medical director of Major League Soccer.
In 2009, SUNY recognized Mandelbaum with an honorary Doctor of Humane Letters. He has received three national awards for excellence in sports medicine research, including the prestigious Dr. Ernst Jokl Sports Medicine Award in 2006, an honor previously bestowed on renowned four-minute miler Roger Bannister.
Mandelbaum serves on the editorial board of the American Journal of Sports Medicine, the board of the American Association of Sports Medicine and the Board of Fellows of Professional Team Physicians.
At the SUNY Cortland symposium, Hal Luther, the director of strength and conditioning at Syracuse University since 2007, will discuss the proper shape of football players from 9 to 10 a.m. Luther coached more than a dozen future NFL players during his tenure at Syracuse.
Amy DeBlois, a physical therapist at SUNY Upstate Medical University in Syracuse, N.Y., will discuss balance, activity tolerance and rehabilitation exercise from 10 to 11 a.m.
Devin Coppola, M.D., SUNY Cortland's college physician, will address diabetes in athletics at 11 a.m.
Otto Janke, M.D., of Janke Family Chiropractic in Cortland, will discuss posture problems in athletics from 1 to 2 p.m.
---