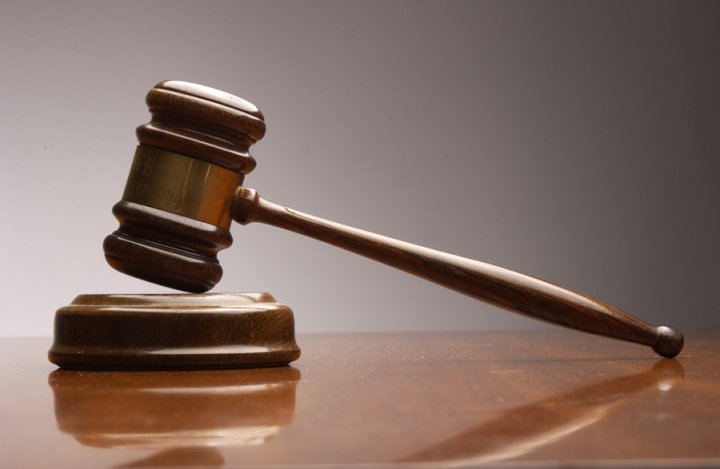 12/07/2011

SUNY Cortland moot court participants included, from
left, Kyle Martin, Liz Polonski, Donielle Maier and
Patrick Herring.
Donielle Maier, a SUNY Cortland senior and aspiring law school student, understands life as a lawyer involves much more than the dramatic courtroom snippets people see on television.
Her understanding is based on more than her experience working as a paralegal. Maier also competed on one of two SUNY Cortland moot court teams that traveled to the Eastern Regional Undergraduate Moot Court Qualifying Tournament at Fitchburg State University (Mass.) on Nov. 18 and 19.
Moot court, a competitive simulation of courtroom legal trials that give students practical experience with the law, is supported by the Cortland Fund. The Fund is supported by gifts made to the College as part of "Educating Champions, the Campaign for Cortland," the College's ambitious effort to raise $25 million by 2013. To date, the College has raised more than $20 million from friends and alumni. More than $2.9 million that amount came by way of the Cortland Fund.
The experience can help dispel myths created by television courtroom dramas.
"Moot court and law, in general, are not what you see on 'Law & Order,'" said Maier, a sociology major from Sherburne, N.Y. "There's so much more that goes into it."
Both of the two-person teams from SUNY Cortland made it to second day of competition, after the field had been narrowed to 16 competitors, before being eliminated. It was an impressive showing against quality institutions, said Christopher Latimer, the team's advisor and an associate professor of political science at the College.
"The fact that you have to stand up there and answer questions by two or three judges with other people watching obviously can be very nerve-wracking," said Latimer, a lawyer who practiced in Washington, D.C. "(The students) really held their own."
The four SUNY Cortland students who competed included Maier; Patrick Herring, a senior history major from Lynbrook, N.Y.; Kyle Martin, a junior political science major from Fulton, N.Y.; and Liz Polonski, a junior political science major from Westerlo, N.Y.
The moot court teams were presented with a fictional Supreme Court case between a law school professor and the United States of America before the competition. Teams were in charge of preparing arguments for both sides, based on real-life cases cited in the competition brief.
"You're basically in charge of ripping this thing apart, looking at the different cases that are cited and seeing how they fit for both sides of the argument," Maier said. "That's probably the most difficult thing. You have to be able to argue for both the petitioner and for the respondent."
Maier and Herring, her moot court partner, credited Latimer with preparing the moot court participants. In the weeks leading up to the competition, he peppered the four students with tough questions that the competition judges could have asked.
"Most of the questions the judges gave us, (Latimer) asked us beforehand," said Herring, who will work as an intern in Washington, D.C., in the spring. "Nothing surprised us."
That much was evident in Maier and Herring's first sudden elimination match on the second day of the competition. They knocked off a team from Duke University to move on to the round of 16 teams.
Maier said the moot court experience reinforced her passion to become a lawyer. She has worked part-time for the past three years as a paralegal specializing in indigent defense. Indigent defenders help people who are charged with a crime but cannot afford to hire a private attorney.
Maier was quick to point out that moot court is not a group limited only to political science majors or prospective law school students.
"You don't need to be a person who's interested in law," she said. "It probably helps, but this is really about teaching advocacy skills and being able to answer questions on your feet."
Latimer agrees.
"Even though my initial goal is to help students prepare for law school, I think moot court can help any student in any major," he said, noting that the credit-granting experience can improve aspiring teachers' speaking skills or the critical thinking mindset required by any academic program.
Maier said that her hands-on, undergraduate participation in moot court has helped shape her law school applications.
"There are a lot of people I met who want to go to law school because it has this sort of prestige," she said. "Working in the field and participating in moot court, you really get a sense of what it's like."
---