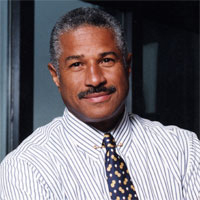 02/27/2012

Felipe Luciano, a two-time Emmy recipient and former WNBC-TV New York news anchor, will discuss the American consciousness about and standpoint on civility and kindness on Saturday, March 17, at SUNY Cortland.
Luciano, the keynote speaker at the College's third annual Student Conference on Diversity, Equity and Social Justice, will speak at 1 p.m. in the Corey Union Function Room.
The student-led event, which is a showcase on student research, will be held from 8:30 a.m. to 4:30 p.m. in Corey Union.
The conference registration deadline is 4 p.m. on Friday, March 2. Registration forms may be picked up in the Multicultural Life and Diversity Office in Corey Union, Room 407-A or online at the Multicultural Life and Diversity Office website at www2.cortland.edu/multicultural/. The registration fee is $20 for students, $25 for college faculty and staff, and $19 for alumni.
For information or assistance with registration, contact Ann Cutler at (607) 753-2336 or multicultural.life@cortland.edu. Completed registration forms may be submitted electronically at that email address.
In his presentation, Luciano will share his experiences as a Puerto Rican activist, journalist and civil rights leader. He believes that he currently is living his "age of reason," and is undergoing a personal reconstruction of his worldview.
While attending City College in Queens, N.Y., he joined The Last Poets, an activist group, and engaged in politically charged poetry and musical performances that preceded the emergence of hip-hop and rap. Luciano led provocative political workshops in Harlem that attracted progressive intellectuals and activists, including leading figures such as Stokely Carmichael and H. Rap Brown.
At the Student Conference on Diversity, Equity and Social Justice, students have the opportunity to share their research, build their resumes and network with other students across New York state. Research proposals can be submitted via email to multicultural.life@cortland.edu by Wednesday, Feb. 29. Proposals received after that date will be accepted and reviewed on a rolling basis. Presentation topics may be offered as posters, research sessions and panel sessions and should run 45 to 50 minutes each.
SUNY Cortland President Erik J. Bitterbaum and Vice President for Student Affairs C. Gregory Sharer will give a welcome speech at 9 a.m. in the Corey Union Function Room. A cultural showcase with several performers will take place there at noon.
"The conference focus is in line with the strategic goals of the SUNY system as well as those of SUNY Cortland," said Noelle Paley, director of multicultural life and diversity for the College.
---