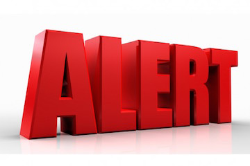 09/13/2016

Starting Sept. 7, SUNY Cortland began automatically enrolling the college email addresses of all employees in New York Alert, the system the college uses to notify its students and employees of emergency situations and weather delays.
To accomplish this, the College is using the database information maintained in the HR Self-Service portal. This will ensure that all faculty and staff get at least an immediate email notification of an emergency.
However, faculty and staff will not automatically receive emergency text messages from New York Alert.
To receive those critical texts requires action from all employees, even from those who currently receive them.
To receive text alerts or voice phone calls from NY Alert, you must log into the HR Self-Service portal and add your phone information. Because the old NY-Alert database was erased and replaced by this new sign-up method on Sept. 7, you must add your telephone information to the HR Self-Service portal if you want to continue to receive text or voice alerts, even if you previously signed up for NY-Alert.
Step-by-step instructions are below:
Log into myRedDragon
Select the "Faculty/Staff" tab at the top of the page.
In the "Important Links" box at the top right of the page, look under "SUNY Resources" and select "HR Services/TAS."
In the "Self Service" box to the left, select" SUNY HR Self Service." It's the farthest right of three icons in the box.
Enter your birthdate for verification.
You should now see your Human Resource Record. Select the "Phone" option at the top of the page.
The numbers you see are the numbers that will be sent to SUNY NY-Alert. To update a phone record, select the phone you wish to update. Then, look immediately below that and select "Add" to put that device in your Human Resources record.
Under "Phone Details," enter the number you are adding or updating, if this is a cell phone, make sure "Is this a Cell Phone" is marked "Yes."
NOTE: Marking "Yes" for a cell phone means you will get a text message warning or emergency instructions through that device. Voice recording is only used when text messaging is not available.
If you need help, please contact The Help Center at 607-753-2500 or thc@cortland.edu.
---