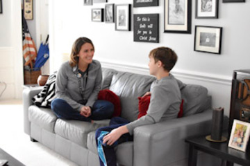 03/16/2017

Elizabeth MacNabb MacWilliams '03 spent childhood summers driving around with her mother, Joan Sexton Gray '74, an educator who spent her annual break visiting students and families at their homes.
That experience left a lasting impression on MacWilliams, the principal of Carroll Leadership in Technology Magnet Middle School in Raleigh, N.C. She believes that education doesn't stop when the final bell rings. In an effort to deepen the connection between school and community, MacWilliams has vowed to meet all 1,003 of her students at home during this school year. Her efforts have drawn the attention of the national media and she's recently been profiled by NBC News and People Magazine.
"It really started when I was growing up with my mom," MacWilliams said. "She is a Cortland grad and my dad is a Cortland grad as well. She used to pack us all into her van and we'd all go on home visits together throughout the summer. It was something that I talked about in my classes at Cortland and certainly during my practicum and student teaching experiences."
Soon after graduating from SUNY Cortland, MacWilliams began teaching at Southwest Elementary in Durham, N.C. One day, she had her students prepare the classroom for a parents' open house that night. The students were excited to show off their progress and MacWilliams was eager to share her goals for the school year.
Yet not a single parent came to the event.
Hectic schedules make it tough for many parents to attend conferences at school, MacWilliams said. She also believes some parents have negative personal memories of school and opt to skip events with teachers.
So MacWilliams decided to take her message to her students' homes, building bridges in the process.
"Beyond it being an inconvenience, some of our families haven't had a positive school experience," MacWilliams said. "They just don't have a lot of faith or trust in our schools or they don't recognize the value in our schools, inherently. By building those relationships and helping to expose families to the idea that schools are more than academic institutions, there is a bond that is formed."
MacWilliams became principal at Carroll Middle School in 2015 and has continued the tradition of fostering relationships with her students and their families outside of school. Whether she's popping in on her way to work in the early morning or stopping by on nights or weekends, MacWilliams is going above and beyond to listen to students and their parents. As a result, students are more confident and are willing to look to adults in school as role models.
"I think, without a doubt, all of the visits have yielded positive outcomes," MacWilliams said. "It's not to say that it's a miracle and that kids aren't going to make mistakes after they form relationships with an advocate or a teacher in the school. What it does is it builds trust, and when kids do make mistakes, there is an ability to learn from those mistakes and overcome those mistakes and take a more positive path."
| | |
| --- | --- |
| | |
| | MacWilliams (center) visits a student at home. |
Getting to know her students personally is MacWilliams' goal. She'll sit and listen as the middle schoolers practice instruments or tell tales about their studies or athletic achievements. Eventually, the discussion may shift to the future, topics such as standardized tests, college and careers. Yet MacWilliams asks her students to focus on the moment.
In her latest principal's message on the Carroll Middle School website, MacWilliams writes, "Someday is now…the learning journey is the destination." She wants to make their day-to-day experiences as middle schoolers matter.
"Without having gone to that student's house and having deeper conversations beyond just math, science, social studies and ELA (English Language Arts), I wouldn't have recognized the deep capacity in that student beyond academics," MacWilliams said. "Even if it's something I'm not completely conscious of, I think that choice and voice are so important to these kids. By going to them and hearing them out and hearing from their families, it has a direct impact on the success of the school."
MacWilliams comes from a SUNY Cortland family. Her father, Terry MacNabb '81, retired in 2016 after serving a decade-long stint as superintendent of Waterloo Central Schools. Her husband, Andrew MacWilliams '04, teaches Healthful Living and is a soccer coach at Apex (N.C.) Middle School. She is surrounded by successful educators and credits SUNY Cortland for getting her ready to work in a school environment.
"I was so well-prepared for the professional world after leaving Cortland," she said. "I was lucky enough to get a job right away. I moved south and left the area but absolutely felt prepared and had a lot of great experiences at Cortland."
Home visits are becoming an increasingly popular way for teachers and administrators to listen to parents and learn more about their students. MacWilliams is certainly an advocate for off-campus meetings – she's seen the success first-hand – yet she's most concerned with the results. Are students performing better in the classroom? Do parents understand what their children are getting out of school? That remains her ultimate goal, no matter the process.
"I think we live in a super-polarizing world and I'm hopeful that it doesn't necessarily have to be through the home visits, which are really a what," MacWilliams said. "It's more about the why, which is the community-building and really marrying the outside community and our academic institutions. The world is changing so vastly that if we are going to successfully prepare kids for the real world, we have to make sure that we truly are vested in their communities."
---