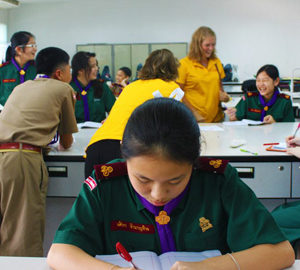 10/09/2012

Long recognized for boasting the largest nationally accredited teacher education program on the East Coast, SUNY Cortland has begun sharing the College's methods with teachers in Thailand, roughly 8,500 miles across the Pacific Ocean from campus.
This past August, two SUNY Cortland students and a pair of faculty members in the Childhood/Early Childhood Education Department were among a pioneering group of seven that spent nearly three weeks in the Southeast Asian country, leading a series of professional development workshops for Thai teachers.
In addition to getting a taste of teaching an English as a second language (ESL) classroom in a foreign country, the SUNY Cortland students — as well as the students from Tompkins Cortland Community College and SUNY Cobleskill who joined them — demonstrated a more hands-on type of instruction for Thai educators.
It was possible thanks to a unique partnership SUNY Cortland shares with Srinakharinwirot University (SWU) in Bangkok. Sponsored by the Ministry of Education and the Office of the Basic Education Commission, which provided transportation, housing and teaching materials in Thailand, it's a partnership that views this summer's visit as the first of what will become a regular study-abroad destination for SUNY Cortland students.
"They say if you go once, you'll go back seven times," said Orvil White, an assistant professor of childhood/early childhood education who has made six trips and is responsible for building SUNY Cortland's partnership from scratch.
White came to SUNY Cortland six years ago with experience working with Thai teachers during his doctoral degree-seeking days at Indiana University. He has brought many Thai educators, graduate students and administrators to Cortland over the past four years, including a group of 13 people that is observing how the College operates through Oct. 15.
Last summer, however, was the first time SUNY Cortland students made the trip with him. Susan Stratton, an associate professor of childhood/early childhood education, also joined. The newcomers — both the students and Stratton — spotted several differences in the classroom and in the culture.
Thai teaching relies heavily on antiquated methods known as "chalk and talk," they observed. So the task of the group from Cortland was to bring hands-on inquiry, which often includes games and activities, to the overseas classroom.
"I can tell you about the solar system," Stratton said. "But if we model it to scale using Play-Doh, it's more fun and more interesting."
Courtney Cox, a senior childhood/early childhood education major from Bay Shore, N.Y., said she knew nothing about Thailand when she embarked on the trip. What she brought home was a deeper appreciation for her future students and for her own teaching abilities.
Leading a discussion in an ESL classroom overseas is different, she said, because her listeners — Thai teachers, in this case — shared a common language different than her own.
"It definitely made me more sensitive to children who don't speak English as their first language," said Cox, who represented SUNY Cortland along with Kayleigh Caswell, a senior childhood/early childhood education major from Webster, N.Y.
Thai teachers showed a genuine appreciation and respect for their Central New York visitors, Cox said. She said she felt like a rock star based on the number of times that teachers asked to take a photo with her.
"The whole concept of having these English-speaking Americans was fascinating to them," she said. "And they made sure to show it."
The warm welcome easily overcame less pleasant aspects of the journey, such as oppressively humid weather or food dishes loaded with raw seafood.
White likened the experience to the one that his SUNY Cortland students shared at Raquette Lake in September.
"One (American) student said: 'I came up here with my classmates and I'm leaving with my friends,'" White noted. "And that's the way the Thais are when you develop these relationships. It's very close. It's very personal."
Based on the trip's success and Thailand's growing interest in English-speaking teachers, White said a formal program will be developed for education-related majors from SUNY Cortland.
"The ultimate goal is to have a student go over, share that teaching experience in an ESL immersion setting and use it as a boost on their resume to stand out," he said. "And hopefully, it changes the way teachers approach their classrooms, both in the United States and in Thailand."
---