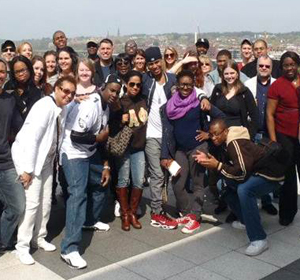 04/23/2012

The SUNY Cortland Gospel Choir will perform its yearly spring concert, paying special tribute to gospel greats Whitney Houston, Sam Cooke, Moses Hogan and Kirk Franklin on Sunday, April 29.
The event, which begins at 4 p.m., will take place in Old Main Brown Auditorium and is wheelchair accessible. A dessert reception will follow immediately after the performance.
Admission is $3 for students and $5 for the general audience. Complimentary tickets are available on an at-need basis. The proceeds will go to the Gospel Choir Scholarship and Programming Funds.
The choir, which recently returned from its spring 2012 tour to Washington, D. C., and Maryland, will offer selections based on Ubuntu, the African ethic or humanist philosophy focusing on people's relationships to each other, expressed as: "I am what I am because of who we all are."
Seth Asumah, a distinguished teaching professor of political science and chair of Africana studies at SUNY Cortland, will elaborate on the concept of Ubuntu and its implication for unity in today's times.
Saxophonist Jamie Yaman of Cortland will perform "Silver and Gold," backed by the choir ensemble, in honor of Kirk Franklin. Dorothy Thomas '77 of Cortland, a pianist, will perform Whitney Houston's "One Moment in Time," by Albert Hammond and John Bettis, and "I'll Always Love You," by Dolly Parton. Khalia Brown, a junior speech and hearing science major from Brooklyn, N.Y., will sing Houston's rendition of "I Look to You," and junior Jason Carriero, an adolescence education: English major from Hartsdale, N.Y., will pay tribute to Sam Cooke by performing "I Know A Change Is Gonna Come."
The choir recently returned from its spring 2012 trip to Washington, D.C., and Maryland.
The choir also will present the spiritual, "Keep Your Lamp," in recognition of Moses Hogan, among selections of spiritual and contemporary genres.
The performance will be directed by Robert Brown, an adjunct instructor in Africana studies at the College. Brown also teaches music in the Syracuse (N.Y.) City School District and is the music director of the New Life Community Church.
Choir musicians are Andy Rudy, Reginald Siegler and Benjamin Terry, all from Syracuse, and Yaman.
The program is sponsored by the SUNY Cortland Africana Studies Department, Center for Gender and Intercultural Studies, Alumni Affairs Office, Cortland College Foundation, Division of Student Affairs, President's Office, Provost and Vice President for Academic Affairs' Office, and student activity fee.
The event was organized by Samuel Kelley, a distinguished service professor of communication studies and adviser of the choir. For more information, contact Kelley at (607) 753-4104 or Asumah at (607) 753-2064.
---