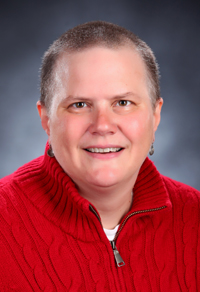 08/26/2011

SUNY Cortland has appointed Susan Wilson as interim associate dean of the School of Education. She began her duties on Aug. 1.
Wilson will work with faculty and undergraduate and graduate students associated with the four departments within the School of Education: childhood/early childhood education, educational leadership, foundations and social advocacy, and literacy. She will report to Professor Andrea Lachance, interim dean of education.
As interim associate dean, Wilson assists the dean, who is the school's chief academic, fiscal, and administrative officer. She provides support to the chairs and faculty within the school in their efforts to promote student success.
The associate dean also monitors and maintains academic standards for students within the school and interprets academic policies. She reviews curricular changes initiated by the departments and works closely with the associate deans within the College's other two schools to maintain consistency in the interpretation and application of academic policies.
Prior to this appointment, Wilson was an associate professor of recreation, parks and leisure studies. In addition to teaching therapeutic recreation, Wilson most recently served her department as internship coordinator.
In 2000, the National Council for Therapeutic Recreation Certification recognized Wilson and her colleague, Professor Vicki Wilkins, for preparing therapeutic recreation students so well that they scored, on average, higher than the regional and national averages during a three-year period.
Wilson is the author of numerous articles, papers, book chapters and reviews and has presented extensively at state and national conferences in her field.
A past president of the New York State Therapeutic Recreation Association, she has served the organization in many capacities. In 2008, the association presented her with its Kimberly A. Kiernan Outstanding Professional Award. She also is a member of the American Therapeutic Recreation Association, the National Council for Therapeutic Recreation Certification, the National Recreation and Park Association, the National Therapeutic Recreation Society and the Society of Parks and Recreation Educators.
In May, students at SUNY Cortland singled her out from among all the full-time teaching faculty members for a 2011 Student Affairs Connection Award. The selection committee noted her many campus roles, including softball team academic advisor, instructor for the first-year student seminar (COR 101) and a staff justice. The softball team recognized her in April as a person who makes a difference. Women of Color honored her for her service in 2008.
In the community, Wilson served from 2008 to 2011 on various committees of the YWCA Board of Directors and as a Girls Day Out program volunteer.
Wilson undertook a visible volunteer role in the recent, highly successful Faculty and Staff Campaign of The Cortland Fund, working to encourage faculty participation in the College fundraising endeavor.
She joined SUNY Cortland in 1998 as an assistant professor after receiving her Ph.D. in therapeutic recreation from Clemson University. She was promoted to associate professor in 2004.
She also has a bachelor's degree from Western Washington University and a master's degree from Central Michigan University. Wilson is certified as a therapeutic recreation specialist through the National Council on Therapeutic Recreation Certification.
---