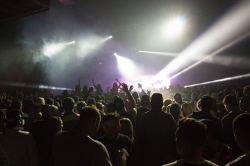 04/17/2019

Bazzi, a pop music singer, songwriter and rapper who boasts 18,800,000 monthly Spotify listeners, will headline this year's Spring Fling concert alongside Brooklyn rapper Young M.A on Saturday, April 27.
The Spring Fling picnic and carnival will be held from noon to 3 p.m. in front of Corey Union. Neubig Road will be closed to traffic to create more space. Activities will include lawn games, inflatables, airbrush tattoos, a photo booth and a live band to keep the fun going. Popcorn, snow cones and cotton candy will be available along with a full barbeque catered by Auxiliary Services Corporation. Burgers, hot dogs, veggie burgers, salad, chicken, potatoes, pasta salad, watermelon and lemonade are on the menu. T-shirts, lanyards, water bottles and sunglasses will be given away.
In the event of rain, the carnival and picnic will be held in Corey Union.
The concert will take place in Park Center Alumni Area. Doors open at 7 p.m. and the show begins at 8 p.m.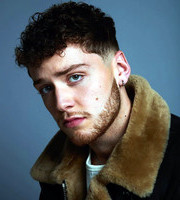 Tickets are on sale to SUNY Cortland students for $25, cash only, from Monday, April 22 to Tuesday, April 23 between 9 a.m. and noon and from 4 to 8 p.m. at the Corey Union information desk. Ticket sales will be opened to the general public from Wednesday, April 24 to Friday, April 26 between 9 a.m. and noon and from 4 to 8 p.m. Tickets for the general public are $30. SUNY Cortland students may still purchase their one ticket for $25 after April 23.
Students buying tickets must have their SUNY Cortland ID at the time of purchase. Those purchasing general public tickets can buy as many as they want and must pay in cash as well. Tickets will not be sold at the door.
Concert attendees must be at least 18 years old.
Michigan-born Andrew Bazzi began his music career as a young child and eventually gained popularity through the social media app Vine in 2015. Since then, he has released singles "Beautiful," "Got Friends" and "Alone." In October 2017, he released his breakthrough single "Mine," which soon became an internet meme on popular social media sites, which spiked his popularity. The song landed on the Billboard Hot 100 charts at No. 11.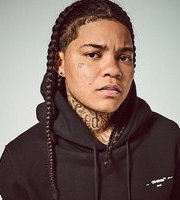 He joined Camilla Cabello and Justin Timberlake tours as an opening act and headlined 2019 spring concerts at Harvard University and Iowa State University. Bazzi is currently working on a collaboration with Marshmello and released his newest song "Paradise," earlier this month.
Young M.A broke through into the rap world with her hit single "Ooouuu" in 2016, which has 7,000,000 plays on Spotify. She has also started the Kweens Foundation, a charity designed to support mothers through tragedies brought on by street and gun violence.
Prepared by Communications Office writing intern Skyeler Paparteys
---