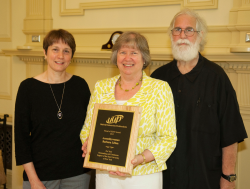 07/10/2012

Assemblywoman Barbara Lifton, D-Ithaca, visited SUNY Cortland Tuesday and received the annual "Friend of SUNY Award" from United University Professions (UUP), the largest union in the state university system.
Lifton called the award a tribute to her father, a former SUNY Geneseo professor and a founder of that college's UUP chapter, in an emotional acceptance following a morning of discussions about teacher education issues in New York state.
"He valued teaching and he valued teachers," Lifton said of her father, a retired English professor who died in 1987. "In honor of my father, I want to thank all of the people who do this work, not only unheralded, but under attack."
Lifton spent the morning meeting with members of SUNY Cortland's faculty and staff to discuss changes in the way New York state trains and evaluates teachers and the impact of new state education mandates on student teacher placements.
Cortland has the largest teacher education program in New York state and could be significantly affected by the changes. A strong supporter of both UUP concerns and the College, Lifton was the 2008 recipient of SUNY Cortland's College-Community Appreciation Award.
A member of the Assembly's Higher Education Committee, her support was again recognized Tuesday by the campus community at a luncheon hosted by College President Erik J. Bitterbaum.
"She has been very generous to SUNY Cortland, and we are very appreciative," said Bitterbaum, noting that her support was key in securing funding for the College's new $56 million Student Life Center, scheduled to break ground this fall.
Lifton also played a major role in obtaining a $300,000 grant for SUNY Cortland's College-Community Downtown Partnership, said Jamie Dangler, UUP's vice president for academics. A SUNY Cortland sociology professor and former president of Cortland's UUP chapter, Dangler is on leave from the College to work for the union in Albany.
"Barbara Lifton believes in public education and has done much to remind her colleagues of the value of SUNY for New York state citizens and the communities we live in," Dangler said. "She has introduced, advanced and supported legislation favorable to SUNY, its students and employees."
John Driscoll, the current chapter president for Cortland UUP, presented Lifton with a plaque Tuesday in a ceremony in Brockway Hall Jacobus Lounge.
---