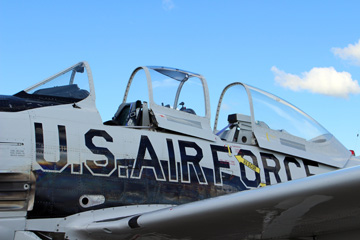 12/15/2015

Laura Davies recalls the challenge of standing in front of a classroom and training fighter pilots to be teachers — wearing the only pink shirt in a sea of Air Force blue.
Davies, an assistant professor of English at SUNY Cortland, taught previously at the Air Force Academy in Colorado Springs, Colo., where one of her responsibilities as director of the Academy's first-year writing course involved training its instructors, almost all of whom were active-duty military officers.
That unique military population inspires Davies' upcoming research project that recently was awarded $4,770 in funding from the Dr. Nuala McGann Drescher Leave Program of the labor union United University Professions (UUP). It means Davies will spend the spring semester considering how teaching is taught at armed forces institutions, specifically as it relates to writing.
Laura Davies
In a broader sense, Davies also will explore the challenges beginning writing teachers face and the support structures that might benefit them early in their careers. She points to research that indicates more than 40 percent of novice teachers leave the classroom within their first five years of teaching.
"When I was at the Air Force, there was this assumption that if you had some sort of knowledge — if you could stand up in front of people and give a briefing — then you could teach," said Davies, who taught as a civilian at the Academy for two years before arriving at SUNY Cortland in 2014. "That's problematic."
What she found is that military officers bring unique strengths and shortcomings to the classroom. They often possess the confidence, organizational skills and leadership qualities that traditional beginning teachers must work to develop. But Davies, who now directs SUNY Cortland's Campus Writing Programs, also observed that the military instructors wanted to be creative but were too overwhelmed to do so, often falling back on the structure of their training.
One captain, a woman in her mid-20s, arrived to teach at the Air Force Academy after spending 11 months leading a security detail for armored convoys in Baghdad. She regularly explained to Davies how she felt out of place in the writing classroom and in her role as a teacher.
"There's definitely a divide between military and civilian teacher education, especially at the college level," Davies said. "(Military officers) wanted to duplicate my lesson plans minute by minute. It was interesting to be asked this question: 'What do you do for the briefing on commas?'"
Her qualitative research will weave together three disciplines — rhetoric and composition, English education and military science — as well as questions tied to gender. The teaching of writing traditionally is characterized as feminine while military culture often is portrayed as masculine, according to scholars cited in Davies' proposal.
The upcoming study of teacher identity and preparation also should be applicable beyond military instruction for those who educate and support future K-12 teachers.
"Military officers are competent in ways that novice teachers in the field might not be, especially when it comes to command and leadership," Davies said. "A commander is in charge of every minute detail. There's this aspect of care that translates well to the classroom."
---