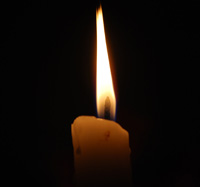 09/10/2013

SUNY Cortland will pause to honor the victims of the 9/11 terrorist attacks with its annual remembrance ceremony on Wednesday, Sept. 11.
The seven College alumni who tragically lost their lives in the attacks also will be remembered.
The event, which is open to the public, begins at 9 p.m. on the Corey Union steps. The Corey Union Function Room will house the remembrance in the event of rain.
SUNY Cortland President Erik J. Bitterbaum will offer a welcome before reflections from Student Government Association President LeighMarie Weber, a senior speech and hearing science major from Williston Park, N.Y., and Emergency Medical Squad Chief Aleena Kanner, a senior sport studies major from Great Neck, N.Y.
"Today's students were young, but we still remember," said Kanner, who grew up not far from New York City.
Seven candles will be lit to recognize individually the deceased alumni before a moment of silence takes place. Those who will be remembered include Kenneth VanAuken '77, Glenn Thompson, David Garcia '84, Donald Spampinato, Jr. '84, Alfred Maler '85, Michael J. Boyle and Karen S. Navarro '94.
People who are unable to attend the College's ceremony are invited to submit tributes on the national 9/11 Day website and Facebook page.
---