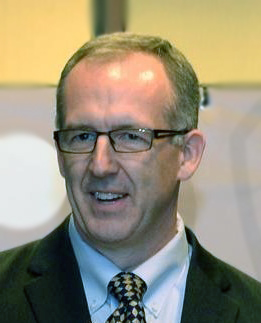 10/28/2014

Greg Sankey '87, a SUNY Cortland graduate and second in command of college football's most dominant athletic conference, will speak at his alma mater on current issues in college athletics Tuesday, Oct. 28.
Sankey, the executive associate commissioner and chief operating officer for the Southeastern Conference (SEC) and a native of Auburn, N.Y., is returning to Central New York for a two-day executive in residence visit Monday, Oct. 27, and Tuesday, Oct. 28. His talk, which is free and open to the public, takes place at 3:15 p.m. Tuesday, Oct. 28, in the College's C-Club Hall of Fame Room, located in Park Center.
Sankey's visit comes at a time when the SEC is dominating sports headlines. Five of the top 10 teams in college football's current AP Top 25 Poll hail from the conference, meaning it's possible that the sport's first-ever four-team playoff could feature more than one SEC squad. Earlier this week, influential SEC commissioner Mike Slive announced he will retire in July. Sankey is frequently mentioned as one of his possible successors.
Observers and members of the national media regularly praise Sankey, a former physical education major at SUNY Cortland, as one of the sharpest administrative minds in college athletics. He's worked for the SEC for 12 years — the past two in his current role — and has proven to be an integral part of Slive's efforts to rethink the conference's governance, enforcement and compliance program. He also oversees the SEC's championships staff.
"We're extremely proud to have Greg back on campus," said Rich Coyne '07, the College's alumni and advancement officer. "He truly has climbed the ladder in college athletics, starting out as the director of an intramural sports program in upstate New York and working his way up to a key post with the SEC, arguably the most powerful conference in the NCAA.
"He's the perfect person to inspire our sport management majors and our students in general."
In addition to his public talk, Sankey will speak to several sport management classes and meet with the department's faculty members during his two-day visit.
"Our students are very fortunate that alums such as Greg take the time to come back to campus," said Mark Dodds, an associate professor and interim chair of sport management. "This experience provides our students with a new insight into major college athletics that a textbook could never provide."
Sankey is active within the NCAA committee structure, which includes his service on the Division I Legislative Council, Committee on Academic Performance and the NCAA Committee on Infractions, which he currently chairs. In June, he offered testimony in the historic O'Bannon v. NCAA case regarding compensation for student athletes.
Prior to joining the SEC staff, Sankey served as commissioner of the Southland Conference for nearly seven years. He joined the Southland Conference staff in 1992 and worked as both assistant and associate commissioner before he was named commissioner in 1996.
He was director of compliance and academic services at Northwestern State University in Natchitoches, La., prior to that. While at Northwestern State, Sankey also coached the university's golf teams for two years. His career in college athletics began at Utica College, where he acted as director of intramural sports.
Sankey earned his master's degree from Syracuse University. He resides in Birmingham, Ala., with his family.
---