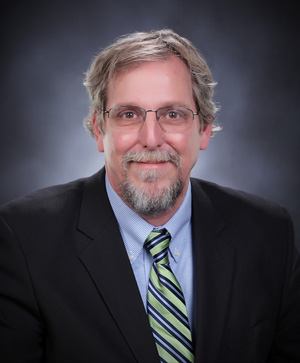 05/09/2014

SUNY Cortland Geology Professor Christopher McRoberts, an internationally respected paleontologist and expert on fossil mollusks of the Triassic period, has earned Distinguished Faculty honors from the State University of New York — the highest tribute for faculty members in the SUNY system.
The new title includes promotion to a tenured rank above professor. A 17-year SUNY Cortland employee, McRoberts becomes just the seventh faculty member in the College's history to be named a distinguished professor.
He will be recognized formally at SUNY Cortland's Undergraduate Commencement ceremonies Saturday, May 17.
For many years, impressive research as it relates both to personal work and to undergraduate discovery has become synonymous with the geology professor's name. McRoberts chairs the College's Undergraduate Research Council and in 2013 led a groundbreaking fossil study that incorporated the talents of a student and staff member. The trio's work was published in the scholarly journal Geology and attracted the attention of publications such as National Geographic and Nature.
Every year, scores of SUNY Cortland students from all academic disciplines are afforded opportunities to work closely with faculty members on original projects, thanks to support from the Undergraduate Research Council that McRobers leads.
In 2011, McRoberts received the SUNY Chancellor's Award for Excellence in Scholarship and Creative Activities in recognition of his work on the Triassic Period, which took place 250 million years ago, and on biostratigraphy, which focuses on correlating and assigning relative ages of rock strata by using the fossil assemblages contained within them.
McRoberts, Jeri Burke '13 and SUNY Cortland
physical plant worker Steven Mize were
co-authors of a scientific study that received
international attention.
He has conducted fieldwork across the globe in countries that include China, Italy, Canada, Austria and Hungary. Many scientific journals have published his work, including Science, Journal of Paleontology, Geology, Palaios, Palaeontology and Palaeogeography, Palaeoclimatology, Palaeoecology.
McRoberts often serves as an invited lecturer at some of the most important university and international conferences in his field, making more than 30 presentations in 10 different countries. Because of his expertise, he has been appointed to several prestigious positions, including research associate at the American Museum of Natural History in New York, secretary general for the International Union of Geological Sciences Commission on Triassic Stratigraphy, editor-in-chief of the international journal Albertiana, co-leader of an international Geologic Correlation Project, and chair of the Northeast Section of the Paleontological Society.
McRoberts has been awarded more than $450,000 in grant funding for his research from sources such as the National Science Foundation, Petroleum Research Fund of the American Chemical Society, United Nations Educational Scientific and Cultural Organization (UNESCO), International Geological Correlation Programme and Alaska Division of Geology and Natural Resources. He served as a 1995-96 Alexander von Humboldt Research Fellow at the Institute for Paleontology, University of Wurzburg in Germany.
McRoberts also has written seven book chapters, four monographs and a number of governmental scientific reports.
He joined SUNY Cortland in 1997 as an assistant professor, was promoted to associate professor in 2003 and to professor in 2006. His courses are rooted in paleontology, historical geology and ancient environments.
Previously, McRoberts served as a research associate at Binghamton University.
He earned his bachelor of science, master of science and doctoral degrees in geology from University of Wyoming, University of Montana and Syracuse University, respectively.
McRoberts joins a group of current SUNY Cortland distinguished professors that includes Timothy Baroni, Michael Berzonsky and Terrence Fitzgerald.
---