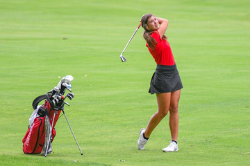 09/27/2021

Pebble Beach Golf Links is one of the most iconic venues in the sport.
The rugged Pacific Ocean coastline, the sloping greens and the impossibly blue skies — it's no wonder why Pebble Beach is the No. 1-rated public golf course in the nation.
SUNY Cortland first-year golfer Claudia Winterberg can't wait to tee it up there as part of the PURE Insurance Championship from Sept. 21 to 26. After four years of hard work and determination, she's earned an opportunity to play alongside 80 other top young players from around the country and some of the best golfers in history.
"It's the holy grail of golf courses," said Winterberg, an exercise science major from Harrisburg, N.C. "If you're not into golf you probably still know Pebble Beach. It's not like any other golf course in the world."
This opportunity came through Winterberg's decade of involvement in First Tee, a non-profit that works to teach young people about the fundamental skills of golf while also imparting life lessons of honesty, integrity and sportsmanship.
It was a fun thing to do on the side while she focused mostly on basketball and volleyball.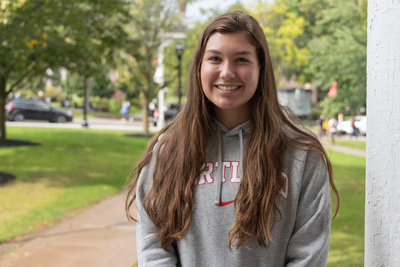 That was until one of her First Tee friends earned a spot in the PURE Insurance tournament when Winterberg was a high school freshman.
Winterberg wanted to play there, too.
For the next four years she dedicated herself to the game, as well as First Tee. By her senior year of high school, Winterberg had received Ace certification through First Tee, a process that involved community service, exploring career and educational opportunities and developing her golf skills.
She applied for one of the 81 annual spots for qualified First Tee members to go play at Pebble Beach in 2020. A personal essay, her work in the community and her skills on the course were evaluated by a national panel of judges. She got in.
And then the junior portion of the tournament was canceled due to COVID-19.
When the application process for 2021 began, Winterberg dove back in, hoping her dream would come true. She sent in an essay about perseverance, one of First Tee's nine core principles, writing about her experiences fighting through frustrations on the golf course and the struggles of being a high school golfer searching for a college program amid a pandemic.
Winterberg was accepted again. She'll soon head to the Pacific coast where she'll be teamed with one of 81 PGA Tour Champions professionals, including familiar names such as K.J. Choi, John Daly, Ernie Els, Bernhard Langer, Corey Pavin, Vijay Singh and more.
"I see these guys and I think, 'How do they hit these shots?'" Winterberg said. "I'm playing college golf and I'm always trying to improve my game. The best way to do that, I think, in any sport, is to watch the best and see what they do. It's not just how they hit the ball, but what's their pre-shot routine? What do they do the night before? What makes them an overall great athlete? I want to talk to them about that and what advice they have for someone my age."
In addition to competing for the Pro-Junior team title, she'll have the opportunity to meet industry leaders and learn about First Tee core values like respect, confidence, courtesy and judgement.
Winterberg had a strong career at Hickory Ridge High School in the Charlotte, N.C. suburbs, earning all-conference honors three times and second team all-state honors as a senior to go along with her eighth-place finish at the state tournament her senior year.
After a tour of the SUNY Cortland campus and conversations with women's golf head coach Mike Discenza, Winterberg knew she had found the right college program for her despite the 700-mile distance from home in North Carolina. Winterberg has made quick friends with her teammates, too.
"That's one of the things that's helped me with the transition to college, going through everything and knowing I'm going to have this team," she said. "I'm always going to have eight friends and a coach I can depend on for anything. That means a lot."
She placed ninth overall with a two-day score of 154 in her first collegiate meet at the St. Lawrence Invitational earlier this month.
Her interest in golf as a lifelong sport is part of the reason why she's studying exercise science and physical therapy. While she's just started her studies at Cortland, she's hoping that her classes and faculty members will give her even more insight into how to become a better golfer and prepare her for a future career.
"As an athlete, I love learning what you can do to keep your body in the best shape," she said. "I really hope I can work with athletes because I feel like I have that connection with them. That's my goal."
As for the PURE Insurance Championship, Winterberg is looking forward to getting to finally play Pebble Beach and maybe even wind up on the Golf Channel. Selected live portions of the tournament and replays will be broadcast Sept. 24 to 28.
She's also looking forward to meeting new people and spending time with her father, Eric Winterberg, the person who first put a club in her hands. He'll get to caddy her practice round.
"Making new friends and forming new connections is what I'm most excited about," she said. "And being on TV, that's crazy to think about.
"It's just such a unique opportunity. Who else gets the opportunity to go play Pebble Beach for a week? It's a crazy experience. Getting to play for free, with friends, with a pro, with amateurs? And having my dad by my side, that's just so cool."
(Update: This story was posted to CortlandRedDragons.com on Sept. 17. Winterberg finished the tournament with a three-round score of 23 under par, which ranked third among First Tee girls. She was paired with Alex Čejka, a member of the PGA Tour Champions tour who has 16 career tournament wins and placed fourth at the PGA Championship in 2003. Čejka tied for the second among the professionals at the PURE Insurance Championship with a three-day score of 11 under par. On the tournament's final day, she was paired with K.J. Choi, a pro with 30 career wins, who went on to win the tournament. Winterberg also played with amateurs including former NBA forward Detlef Schrempf.)
---