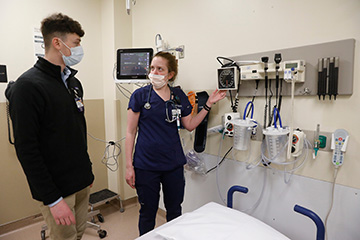 03/07/2023

SUNY Cortland students who are interested in health care careers are benefitting from an internship experience in the Emergency Department at Guthrie Cortland Medical Center while helping with the nationwide hospital staff shortage.
To understand the rewards of the program, look no further than Elizabeth Redenback '19. The Cortland resident is a registered nurse who earned credit for the internship when she was a biology major. Now, she is one of several staff members in the Emergency Department who provide informal guidance to current students during her regular work shifts.
"The internship lets you see things from a perspective that's different from 'Grey's Anatomy,'" Redenback joked, referring to the long-running television drama. "It gives you exposure to the flow of medical care."
During the spring semester, eight of the university's students are assisting at Guthrie, continuing a working relationship that has existed for several years with the hospital, the area's largest health care provider, located a mile from the university's campus. In a fast-paced setting, students help nursing staff members like Redenback with non-clinical tasks, which can include gathering blankets for patients or sharing conversations with their visitors.
Even though students cannot provide hands-on medical care or treatment, they offer a valuable communication outlet and emotional support in an effort to improve a patient's overall experience.
"It's a win-win," said Jarrod Kolodziejczyk, manager of volunteer services at Guthrie Cortland Medical Center. "The benefit for the student is obvious. If they're on a pre-med or pre-health track, they're getting invaluable one-on-one time with patients. And Guthrie is getting an extra set of eyes and ears on a patient as well as some outside perspective."
Christian Nelson, an associate professor of biological sciences and SUNY Cortland's pre-medical/dental advisor, said that the internship is the type of experience that prospective students seek out when they are interested in careers as medical doctors, physician assistants or nurses. In addition to internships, faculty members on the university's pre-medical/dental advisory committee advise students on courses and research opportunities, prepare committee letters of recommendation for qualified students and share their own areas of research expertise.
The Guthrie opportunity can provide up to four course credits, and is one of many possible experiences that fulfills an internship requirement in biomedical sciences. Biology majors who have a strong interest in health care also may pursue it for elective credit, based on availability.
"For some students, this internship is their first experience in a health care setting or an emergency room setting," Nelson said. "In some cases, it might be the first time they see patient care being administered. It might be the first time that they're exposed to the diversity of patients.
"This really is a good experience to know if (emergency room work) is something they want to do as a career."
Redenback worked previously at a nursing home when she was a student and thought she may want to pursue graduate programs to become a physician assistant. The hospital experience revealed a different career possibility.
"The internship showed how nurses really are at the bedside all the time," said Redenback, who earned her registered nurse credentials through SUNY Morrisville after graduating from Cortland. "You could see all of the different roles (in the Emergency Department) just by observing."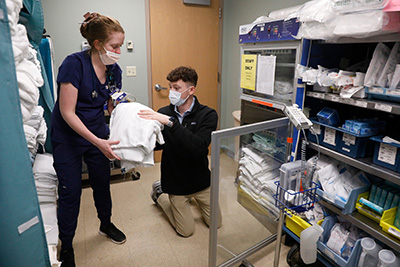 She said the semester-long experience can help students grow more comfortable in a hospital setting, especially when it comes to communicating with medical professionals and patients. Student tasks such as stocking refrigerators and gathering supplies may seem basic, but their work can go a long way.
As an example, Redenback mentioned that Guthrie's Emergency Department follows the layout of a large circle, and the potential benefit of a student guiding visitors to an appropriate exit instead of an ambulance bay.
"It makes a difference," she said.
Kolodziejczyk noted that the student work partnership between Cortland County's two largest employers has grown stronger over the years. What started as a volunteer experience became a formalized, for-credit internship just before the start of the COVID-19 pandemic. After a pause due to health and safety protocols, the internship has blossomed during the current academic year.
He noted that Guthrie Cortland Medical Center can staff up to 13 students in the Emergency Department, which would provide extra patient support from noon to midnight throughout the week. He hopes that it can become a model for other units in the hospital.
"It's been nothing but positive feedback from both the staff and the patients," he said.
Redenback hopes that SUNY Cortland's future health care professionals can benefit in the same ways that she did.
"The internship really gives you an appreciation for every role (in the Emergency Department)," she said. "It shows you how every person matters."
---