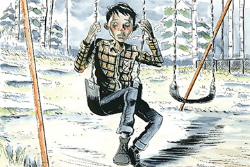 03/21/2017

"The Secret Path," a Native American-themed animated film adaptation of Gord Downie's album and Jeff Lemire's graphic novel, both titled Secret Path, will be shown on Tuesday, March 28, at SUNY Cortland.
The screening is one of two events that will continue the Cultural and Intellectual Climate Committee (CICC) series "Art and Everything." On Tuesday, April 4, a café-style gathering titled "Though My Eyes" will focus on the refugee experience.
Both events are free and open to the public.
The "Art and Everything" series turns on a statement by Bertolt Brecht, the 20th century German poet, playwright and theater director: "Art is not a mirror held up to reality, but a hammer with which to shape it."
"The Secret Path," which begins at 4:30 p.m. in Sperry Center, Room 204, tells the true story of 12-year-old Chanie Wenjack, who died of exposure and hunger alongside railroad tracks near Redditt, Ontario, Canada, on Oct. 22, 1966.
Chanie — mispronounced as "Charlie" by his teachers — was fleeing the Cecilia Jeffrey Indian Residential School in Kenora. He missed his family and tried to return home, not realizing that home was 400 miles away.
Working with Downie's poetry and music, Lemire created a powerful visual representation of the life of Chanie Wenjack. The film is divided into 10 chapters, each a song from Downie's musical retelling of Chanie's story, from his escape from the residential school to his subsequent and heartbreaking death from hunger and exposure to the harsh weather. The final product is a uniquely immersive emotional experience and an insight into the life of a little boy who, as Downie said, he never knew, "but will always love."
The film has a trailer.
The CICC will raffle a copy of the Secret Path graphic novel and digital download as well as autographed items from the Buffalo Sabres to raise money for the Gord Downie and Chanie Wenjack Fund.
'Café Night' with Refugee Stories Set
The College also will host its second "café night" of shared stories from individuals including refugees, titled "Though My Eyes," on Tuesday, April 4.
This year, a group of students from H.W. Smith Elementary School in Syracuse, N.Y., will present their experiences in a variety of formats, from 11:30 a.m. to 12:30 p.m. in the Corey Union Function Room.
The program will resemble one featured at the end of "I Learn America," a 2013 documentary, which included participation from five newcomers to Brooklyn's International High School at Lafayette.
Co-sponsored by the CICC, the Campus Artist and Lecture Series (CALS), and Cortland's Urban Recruitment of Educators (C.U.R.E.) program, the event is free and open to the public.
For more information about the two events, contact Brian Barrett, associate professor of foundations and social advocacy Department, at 607-753-2330.
For more information, contact CICC co-chairs Moranda at 607-753-2052 or Lindh at 607-753-4101. The campus community is invited to visit @SUNYCortCICC on Twitter to share their feedback on "Art and Everything."
---