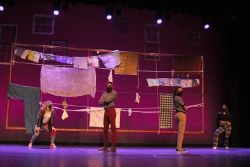 03/23/2021

The show must go on for the students in SUNY Cortland's Performing Arts Department.
Even if it is virtual.
At 7 p.m. on Saturday, March 27, the department will release its latest production, "Raise Your Voice: A Call to Social Change," online as a prerecorded video.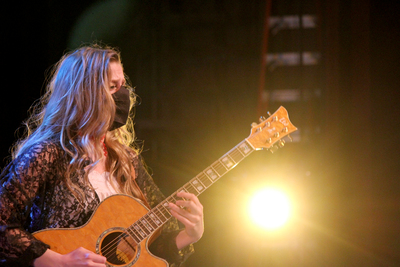 Associate Professor Kevin Halpin, who directed and choreographed the production, created "Raise Your Voice" with Jacob Carll, visiting assistant professor and music director.
One dozen student performers are in the cast and they will touch on a number of topical subjects, including race and sexuality, through a mix of musical theatre, song, poetry and readings. The students helped shape the production by choosing what songs and texts would be included, picking what most moved them.
Filming for the project began on March 4. Mark Reynolds, costume designer in the Performing Arts Department, has been serving as the department's COVID compliance officer during the pandemic. He has coordinated ways for students to perform together in a safe manner, largely by enforcing face coverings at all times and blocking out physically distant spaces on stage.
Works featured in "Raise Your Voice" include:
"Raise your Voice" from the musical "Sister Act"
"Waiting on the World to Change" by John Mayer
"Man in the Mirror" by Michael Jackson
Versions of "Beautiful" by Christina Aguilera and Carole King
"I Too" by Langston Hughes
"Make Them Hear You" from the musical "Ragtime"
"Unruly Heart" from the musical "The Prom"
"Until We Could" by Richard Blanco
A group of students will join the WSYR morning talk show "Bridge Street" on Monday, March 22 to do interviews and watch clips from "Raise Your Voice."
Follow the Performing Arts Department's YouTube channel to see the full performance on March 27. Learn more from the department through Instagram and Facebook.
---