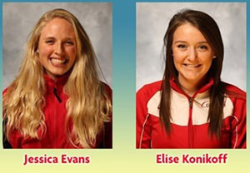 05/21/2013

SUNY Cortland senior women's swimmer Jessica Evans (Hamburg) and junior women's gymnast Elise Konikoff (Hamburg) have been named the State University of New York Athletic Conference (SUNYAC) Chancellor's Scholar-Athlete Award winners in their respective sports for the 2012-13 school year.
The award is given to one student-athlete in the conference, from each sport, who has the highest cumulative grade point average, over a minimum of three semesters, among all first-team or second-team all-conference selections. The Chancellor's Scholar-Athlete Award recognizes a combination of academic excellence and outstanding athletic achievement within the SUNY system at the Division l, Division lll and junior college levels. A student-athlete is only permitted to win the award once.
Fall and winter sports winners have been announced thus far and spring sports winners will be released in the near future.
Evans is a physical education major with a 3.89 cumulative GPA entering the spring semester. This past winter she earned second-team All-SUNYAC honors with a runner-up finish in the 100-yard butterfly at the SUNYAC Women's Swimming and Diving Championships. She also swam on a 200-yard freestyle relay team that won the SUNYAC title and earned honorable mention All-America honors with a 12th-place finish at the NCAA Division III Championships.
Evans swam on both 800-yard freestyle relay and 200-yard freestyle relay teams that set school records. As a junior, she was part of two conference relay championship teams. She was the SUNYAC champion in the 100-yard butterfly as both a sophomore and junior.
Konikoff is a business economics major with a 3.85 overall GPA entering the spring semester. She was the Eastern College Athletic Conference (ECAC) Division III balance beam tri-champion this past season. As a sophomore, she won the ECAC vault title and placed second on balance beam. While women's gymnastics is not sponsored by the SUNYAC, it is still awarded a SUNYAC Chancellor's Award based on All-ECAC performers from SUNYAC schools that sponsor the sport.
---