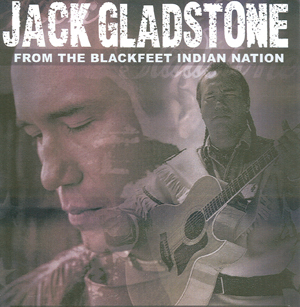 04/19/2012

Jack Gladstone, a Montana Blackfeet poet, singer and songwriter who in 2011 won the highest award possible in the world of Native American music, will perform and discuss his music on Friday, April 20, at SUNY Cortland.
His two-hour program will begin at 7 p.m. in the Corey Union Function Room. The event, which is free and open to the public, is hosted by the Sport Management Club and the Campus Artist and Lecture Series.
Gladstone is regarded as a cultural bridge builder who delivers programs nationally on American Indian mythology and history.
In a career spanning two decades, Gladstone has produced 15 critically acclaimed CDs. He is a 2011 Native American Music Award (NAMMY) winner for "Best Historical Composition." Since 1997, he has collaborated with Lloyd Maines, Grammy winning producer of the Dixie Chicks.
Gladstone has been featured on both the Travel Channel and in USA Today magazine.
Jack Gladstone
In 1985, he co-founded "Native America Speaks," an award-winning lecture series for Glacier National Park. He also was a key tribal voice providing alternate perspectives of the Lewis and Clark expedition during the recent bicentennial events. In 2004, Jack narrated the Telly award winning Lewis and Clark film, "Confluence of Time and Courage."
In 2006, 2007 and 2008, Gladstone headlined programs at the Smithsonian Museum of the American Indians in Washington, D.C. In Fall 2008, he travelled as Montana's spokesperson and troubadour for the U.S. Capitol Christmas tree. As the tree stopped at events across the country as well as for the nationally televised lighting ceremony, he serenaded audiences with his original composition, "Heart of Montana."
Gladstone grew up immersed in the rich oral tradition of the American West. His great, great grandfather Red Crow, legendary chief of the Blood Tribe, was a great warrior and orator. His grandfather, William Gladstone, was a carpenter who helped build Montana's Fort Benton and Alberta's Fort Whoop Up. Born in Seattle, he is the son of a Montana Blackfeet father and a German-American mother.
Many of the stories Gladstone shares were related to him by his Blackfeet grandmother, who recounted the journey of her life and the mythology of the Blackfeet Indian people. From his family's stories, he has discovered both adventure and harmony within Native American and white cultures.
Gladstone earned a football scholarship to the University of Washington and graduated with a degree in speech communications. After college, he moved to the Blackfeet Reservation in northern Montana where he taught public speaking at a community college and deepened his knowledge of American Indian tradition and history.
Event sponsors also include the Center for Gender and Intercultural Studies, Geography Department, President's Office, the Dean of Arts and Sciences and Professional Studies Offices and English Department.
For more information, contact Linda Rosekrans, lecturer in English, or (607) 423-7883.
---