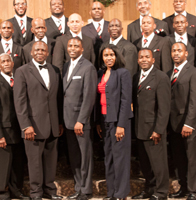 02/24/2015

The Hanson Place Men's Chorale from Brooklyn, N.Y., will sing its favorite gospel selections on Saturday, March 7, at SUNY Cortland.
Presented as the "Cultural Celebration" event culminating the College's Black History Month series, the performance begins at 3 p.m. in Old Main Brown Auditorium. The event was rescheduled from March 1.
General admission will be $5. All students will be admitted free. Classes are welcome. Reserve tickets are available by emailing SUNY Distinguished Service Professor Samuel Kelley at sam.kelley@cortland.edu or Kadeeja Fredankey at kadeeja.fredankey@cortland.edu; by telephone at 607-753-4104; or through a SUNY Cortland Gospel Choir member.
The SUNY Cortland Gospel Choir, SUNY Cortland Africana Dance Ensemble, Chord-land Dragons a cappella group, pianist Dorothy Thomas '77 and Cortland students Kadeeja Fredankey and Margarita Harper will join the celebration.
SUNY Cortland Africana Dance Ensemble
The Hanson Place Men's Chorale will offer a musical tribute designed and presented as a journey through expressionism, classicalism and impressionism. Selections will include "Let All Men Sing," by Hal Leonard; "Fill a Me Up," by Pepper Choplin; "Sanctus," by Charles Gounod; and "Ezekiel Saw the Wheel" and "Glory, Glory, Hallelujah," by Howard Helvey.
Under its director and founder Lincoln W. Blackwood, the ensemble was started in 1986 at the Hanson Place Seventh-day Adventist Church in Brooklyn, N.Y. In partnership with the accomplished accompanist Rosebeth Grant, and with the release of its debut recording, "We Sing," the 30-member group has made an indelible impression in the U.S. and Canada.
The chorale, which has participated in many church services and fundraising efforts, also has performed with the Hinsdale Men's Chorus; Proclaim Him, in Michigan; the Chicago Adventist Men's Chorus; and the Singing Men of Oakbrook, in Illinois.
For more information, contact Kelley, a faculty member in both the Africana Studies and the Communication Studies departments, at sam.kelley@cortland.edu or 607-753-4104.
---