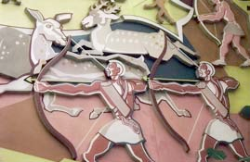 10/10/2011

Robert Rightmire '66, of Patchogue, N.Y., will discuss an historic mural at the U.S. Post Office in Cortland and its connection to the Mexican muralist movement during the 1920s in a talk on Saturday, Oct. 15.
The SUNY Cortland alumnus, a retired educator and author in the field of art history, will offer "Ryah Ludins: From Mexico to Cortland, the Creation of a Post Office Mural" at 1 p.m. in the lobby of the post office at 88 Main St. People are encouraged to bring their own chairs to the lecture, which is free and open to the public.
His talk caps a month-long series of lectures sponsored by SUNY Cortland's Latino and Latin American Studies Committee (LLAS). The LLAS Committee and the Cortland County Historical Society sponsor the post office discussion.
The Mexican muralist movement from nearly a century ago might not seem historically relevant to downtown Cortland. Ludins, however, became the first woman to receive a mural commission from the Mexican government and contributed a wood relief titled "Valley of the Seven Hills" to the Cortland post office in 1943.
The artist's fascinating story is part of an extensive cultural connection shared by the U.S. and Mexico from the 1920s to the 1960s. The Mexican muralist movement stands out among many other artistic patterns because of its strong political undertones and social concern expressed through the artwork.
Rightmire enjoyed a 30-year teaching career at both the high school and college levels before his retirement. Last year, he curated an exhibition devoted to Ludins at the Cortland Free Library. He has served as a guest speaker at the Norman Rockwell Museum in Stockbridge, Mass., the Rockwell Kent Gallery at SUNY Plattsburgh and several other high school and college events.
For more information on Rightmire's talk, contact Gigi Peterson, SUNY Cortland assistant professor of history, at (607) 753-2051 or the Cortland Historical Society at (607) 756-6071.
---