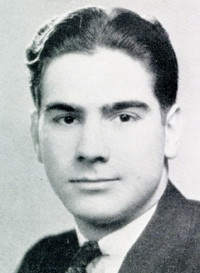 03/13/2012

As the story goes, when Anthony "Tony" Tesori '39 left the Navy after serving in World War II, Donnal V. Smith, SUNY Cortland's president at the time, was waiting for him with a job offer on the Maryland dock as Tesori disembarked from the boat.
Tesori became a SUNY Cortland faculty member, coach and administrator while earning his master's and doctoral degrees at New York University. He served the College selflessly for more than two decades, from 1946 to 1967, notably negotiating a critical land deal that allowed the institution to remain and grow in Cortland.
Forty-five years later, a cohort of World War II and post-World War II era SUNY Cortland gradautes continue to find ways to thank their mentor for his monumental influence in their lives.
Anthony "Tony" Tesori '39 is shown above in a recent photo; to the left, in his year book photo; and below, as coach of the 1949 golf team.
"The soldiers and young women who were here after WWII right through the 1950s knew him," said Peter VanderWoude, manager of planned gifts. "In 1961 he became director of admissions. Many former students attribute their success in their careers and life largely to Dr. Tesori."
Tesori of Rockledge, Fla., turns 97 in December. A committee of alumni from the Class of 1949 are asking their classmates to capture what's described as a "Double Play" for the former physical education major by making gifts totaling $20,000 to support two different causes with a meaningful connection to him. Their letter-writing and telephone appeal will reach out to local residents who remember the Cortland native as well.
The committee is chaired by William "Bill" Mahon and includes Anthony "Tony" Grandinette, Edward "Ed" Olivari, Rose Marie Luppino Kleinspehn, Aubrey Christie Nutter, Marcus "Marc" Martone, Otis Sennett and Charles "Chuck" Meisenzahl.
Many years ago, some students Tesori served while teaching and directing the Student Teaching Program worked with him to create the World War II Generation Scholarship at SUNY Cortland. Because the current endowment fund of approximately $15,000 is not enough to sustain the minimum $1,000 or greater academic scholarship intended for a SUNY Cortland student, it is not currently being awarded.
So the first "out," in baseball parlance, of $10,000 is sought to fully endow the World War II Generation Scholarship Fund.
The second worthy cause is to create a lasting reminder of a College employee whose management of student teachers in the field was possibly second to none in the state, and whose negotiating skills rescued the campus from becoming landlocked in the City of Cortland with nowhere to grow.
Years ago, Tesori's many well-wishers created a modest plaque recalling his contributions to the College. Overgrown at present, the marker lies along Pashley Drive near Whittaker Hall just beyond where Neubig Road crosses Broadway.
The second "out," of $10,000, would underwrite the construction of an enhanced monument to honor Tesori in a location closer to the College playing fields. The improvements would add information about Tesori, elevate the marker and place benches and new shrubbery nearby.
Mahon, the Class of 1949 Committee chair, recalls that Tesori always met with and advised student teachers prior to and early in their classroom experience and trained them to assess the quality of their learning experience. His former students recall keeping notes for Tesori on the performance of host school mentors. Mahon said he had a wonderful experience student teaching in the Bronxville (N.Y.) School District as a result.
"I thought his technique was just way ahead of the field at the time," Mahon said. "For the 34-and-a-half years that I hired people in physical education in the Bay Shore (N.Y.) Schools, I used his techniques for every practice teacher that I had."
Tesori always emphasized the professionalism of teaching.
"He would say, 'You're to dress like a professional,'" Mahon said. "'That means a shirt and tie. You're to be professionally minded.'"
The Tesori Double Play Fund
Alumni are welcome to learn more about the appeal by contacting the committee members William Mahon and Anthony Grandinette. Mahon can be reached at 2012 Turnberry Lane, Wachesaw Plantation, Murrells Inlet, SC 29576, or (843) 651-7508. Grandinette can be reached at 259-2 Winner Circle, Apt. 2, Naples, FL 34112 or (239) 417-1007. Or questions may be directed to Peter VanderWoude at (607) 758-5309.
To make a gift to the endowment fund, checks should made payable to the Cortland College Foundation and the words "Tesori Double Play" should appear in the memo area of the check. Checks should be sent to the Cortland College Foundation, P.O. Box 2000, Cortland, NY 13045.
"Dr. Tesori spent many years traveling the state," noted VanderWoude. "He went to every high school in the state. He would keep tabs on the student teachers we had out there and help them get jobs. Early on he even worked on establishing alumni chapters around the state."
A physical education major at Cortland who excelled in football, basketball, track and baseball, Tesori served his country with Atlantic and Pacific amphibious forces from 1942 to 1945.
As a faculty member at SUNY Cortland from 1946 to 1952, he taught graduate and undergraduate courses in education. Tesori directed student teaching, and coached varsity basketball, tennis, golf and football as an assistant coach.
He went on to coordinate student teacher field services, then directed admissions and records until 1967.
A Cortland native, Tesori has a wealth of experience in the history of the College, according to VanderWoude.
"Tesori said he remembers walking past the old Cortland Normal School in downtown Cortland the day after it burned down, when he would have been younger than four," VanderWoude said, referring to the historic fire of 1919.
His local connections were very useful in 1947, when President Smith was having trouble obtaining an adjoining 27-acre piece of land to grow the campus. When President Smith found out that Tesori knew the property owners, George and Pearl Jenman, he directed him to speak with them right away, finding a substitute instructor to teach Tesori's next class.
"Even though the Jenmans knew me and I explained how important this land was to the College, Mr. Jenman wouldn't budge," Tesori recalled in a 2006 interview. "It took many months, but eventually Mrs. Jenman came around and persuaded George. If the College was unable to obtain that land, the state would have forced President Smith to find another site for the campus, as other SUNY campuses did."
The Jenman Tract currently encompasses the site of Davis Field, Lusk Field House, the varsity baseball field and tennis courts. The property acquisition paved the way for subsequent expansion to the west when the Abdallah family contacted Tesori to sell their farm to the College.
"Probably the personality of the city would have changed if the campus had moved," VanderWoude said. "The land deal allowed us to keep the campus right where it was."
Inducted into the College's C-Club Hall of Fame, Tesori also was named a SUNY Cortland Distinguished Alumnus and a recipient of the Alumni Association's Special Appreciation Award.
In 1967, for reasons of health, Tesori left the city and campus that was his home for nearly all his life. He retired from SUNY Fredonia in 1970. The University of Central Florida subsequently sought him out to help establish a branch campus. He retired from there in 1980.
"Tesori really views his career as being Cortland," VanderWoude said. "He was born here. Initially he thought he might want to become a medical doctor. He came here because of the physical education program, which at the time prepared students to be able to enter the medical field."
The rest is history, one that has richly rewarded SUNY Cortland.
---