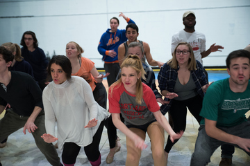 09/10/2019

SUNY Cortland's Performing Arts Department will showcase a mix of cutting-edge musicals and plays during its 2019-20 season.
"Lysistrata" will be performed in the Dowd Fine Arts Center Theatre Oct. 3 to 6. Based on an ancient Greek comedy written by Aristophanes, the title character seeks to end the Peloponnesian War by persuading other women to deny sex to the male characters. This play has an updated translation by J.A. Ball and Michael Chemers from 2009. Although it was first performed in Athens in 411 BC, its themes of gender relations and power are as timely as ever.
Due to sexual innuendo, language and comedy, "Lysistrata" is intended for adults.
"Head Over Heels," to be performed in the Dowd Fine Arts Center Lab Theatre from Nov. 15 to 24, is a musical comedy that premiered on Broadway last year, featuring the music of the Go-Go's. It adapts the plot of a Renaissance romance, "The Countess of Pembroke's Arcadia," written by Sir Philip Sidney circa 1585.
However, "Head Over Heels" is set in a 1980s-style VIP dance club where A-list celebrities are treated like royalty.
"The Curious Incident of the Dog in the Night-Time" will be performed in the Dowd Fine Arts Center Lab Theatre Feb. 27 to March 1, 2020. Based on the eponymous, award-winning 2003 novel, the play debuted in London in 2012. The protagonist is a 15-year-old on the autism spectrum who navigates relationships with family, teachers and other characters as he investigates the death of a neighbor's dog.
Following up last year's hit performance of "Annie Get Your Gun," the department will present another classic Irving Berlin musical, "Holiday Inn," opening on Easter weekend. A 2016 musical based on the 1942 film of the same name, "Holiday Inn" runs from April 9 to 19 in the Dowd Fine Arts Center Theatre. The show features classic Berlin songs including "Stepping Out with My Baby" and "Easter Parade." It follows a song-and-dance trio as they face tough decisions about both their careers and their romantic relationships.
Tickets to all shows are $19 for adults, $16 for faculty, staff and seniors and $9 for SUNY Cortland students. To view a full schedule of shows and to purchase tickets, visit Cortland.edu/boxoffice. Subscription options for opening, closing and Sunday matinee performances are also available.
For more information, contact Jeffrey Whetstone, the Performing Arts Department's production manager and publicity coordinator, or call 607-753-2831.
---