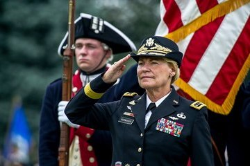 03/10/2020

March is Women's History Month and MentalFloss.com included a SUNY Cortland alumna on its list of "101 Women Who Have Changed the World."
In 2008, Ann Dunwoody '75 became the first woman to be promoted to four-star general in the U.S. Army.
Dunwoody was planning on a career in physical education during her time as a Cortland student, but followed in the footsteps of her brother, father, grandfather and great-grandfather in joining the Army.
She retired in 2012 and has published a book, A Higher Standard: Leadership Strategies from America's First Female Four-Star General.
In other news:
---