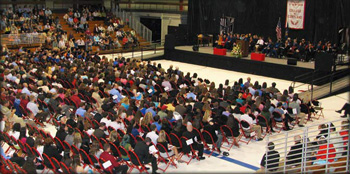 04/10/2012

Donna M. Videto, a SUNY Cortland professor of health who has influenced the national field of health education, will deliver the keynote address at the institution's annual Honors Convocation on Saturday, April 21.
The College will recognize 388 students for their academic accomplishments at the event, which begins at 7 p.m. in the Park Center Alumni Arena. An academic procession of SUNY Cortland faculty will open the Honors Convocation. A reception for the honorees and guests will follow in the same location.
Students will be acknowledged for a variety of achievements, including ranking among the top five percent in their respective classes and receiving College-wide and departmental awards and scholarships. The Donald Parish Brooks Scholarship Award will be presented to the residence hall having the highest cumulative grade point average.
Ralph Dudgeon, professor of performing arts (music), will hold the mace during the procession. Carrying the ceremonial gonfalons will be Seth Asumah, chair of Africana Studies and distinguished teaching professor of political science; Richard Kendrick, professor of sociology and director of the Institute for Civic Engagement; Joseph Rayle, associate professor of foundations and social advocacy; and Bonni Hodges, professor and chair of health. Marshals will be Mark Dodds, J.D., associate professor of sport management; Peter Han, assistant professor of sport management; Kimberly Kraebel, associate professor of psychology; and Jeffrey Walkuski, associate professor of physical education.
The reader for the ceremony will be Robert Spitzer, distinguished service professor and chair of political science.
Videto, who has served the College for 20 years, will give a slightly tongue-in-cheek address titled "The Burden of Being Successful."
Videto has worked in school health education and pedagogy for three decades. Before joining SUNY Cortland in 1992, Videto taught health education in the public schools for six years. She has a doctorate in health education from Pennsylvania State University, and master's and bachelor's degrees in the discipline from Southern Connecticut State University.
Videto has served on the American Association for Health Education (AAHE) board of directors since 2009 and on its executive committee since April 2011. She is a lifetime member of the New York State Association for Health Education, Physical Education, Recreation and Dance.
Donna M. Videto
She has presented at district, state and national level conferences in her field.
Her articles have been published in the American Journal of Health Education, The Health Educator, and the Journal of Health Education. Co-author, with SUNY Cortland colleague Bonni Hodges, of the text Hodges & Videto's Assessment and Planning in Health Education (editions 1 and 2, current edition 2011, Jones and Bartlett), Videto also has written numerous book chapters in many areas of health education.
She serves as an editor and reviewer for national periodicals in her profession.
Since 2009, she has been a co-investigator in partnership with the state Health Education Department, which has funded the School Health Systems Change Project. For 12 years, she has offered her expertise as an instructor in Safe Schools Against Violence in Education (SAVE) to students who seek the state teacher certification requirement.
Honored in 1987 with an Outstanding Young Women of America Award, she was recognized in 1996 by the New York Office of Alcoholism and Substance Abuse Services for college teamwork. In 2007, the American Association for Health Education awarded her its Presidential Citation for her work with the AAHE Health Education and Promotion Network Development Team. The College recognized her with a 2009 SUNY Cortland Excellence in Scholarship Award and a 2005 Faculty Development Excellence In Teaching Award in the area of inclusion of service-learning in teaching.
Videto and her husband, Brian, live in Cortland with their two daughters, Mel, 14, and Ana, 10.
The Honors Convocation Committee is co-chaired by Joy Mosher, associate professor of childhood/early childhood education; and Mary Gfeller, assistant professor of mathematics.
Committee members include Sila Argyle, supervising janitor for physical plant; Kristina Arizmendi, student representative; Darci Bacigalupi, special events coordinator; Leanne Bryan, student representative; Philip Buckenmeyer, associate professor and chair of kinesiology; Mark Dodds, assistant professor of sport management; Ron Gray, supervising janitor for physical plant; R. Lawrence Klotz, SUNY Distinguished Teaching Professor and professor of biological sciences; Kimberly Kraebel, associate professor of psychology; Virginia B. Levine, executive assistant to the president; Jerome O'Callaghan, associate dean of arts and sciences; Kevin Pristash '85, M.A. '91, associate director of College Union; Tracy Rammacher, director of publications and electronic media; Lee Scott-Mack, associate registrar; Brad Snyder, associate director of Classroom Media Services; Stephen Wilson, professor of performing arts; and Christopher Xenakis, lecturer in political science.
For more information, contact Bacigalupi at (607) 753-5453.
---