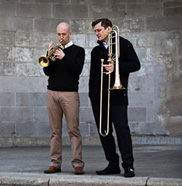 09/09/2013

Brass-hoppers, a collaboration between renowned British trombonist Richard Harris and American trumpet player Tom Bergeron, will perform on Monday, Sept. 23, at SUNY Cortland.
One of the newest and most exciting groups coming out of New York City, Brass-hoppers will begin their concert at 7 p.m. in Brockway Hall, Jacobus Lounge.
Presented by the College's Campus Artist and Lecture Series (CALS), admission to see Brass-Hoppers is $3 for SUNY Cortland students and $5 for general admission. Children 10 and under will be admitted free.
Tickets for the event can be purchased in Corey Union, Room 406, or beginning one hour prior to the performance at the venue. All seating is general admission.
Accompanied by a pianist, the Brass-hoppers' music portrays an eclectic blend of traditional classical music and jazz-inspired arrangements of standards and popular tunes.
Harris was educated at the Royal Academy of Music in London, England, and Bergeron holds two degrees in music from Yale University.
They first met while both performing with the world renowned Radio City Music Hall Orchestra in New York City and soon decided to bring their immense musical talent and unique showmanship to the concert halls of America.
As classical musicians, Bergeron and Harris have appeared with many of the United States' top orchestras and with such solo artists as Andrea Boccelli, Luciano Pavarotti and Rolando Villazon.
In the realm of pop music, Bergeron has performed with The Temptations and regularly appears on "Saturday Night Live," while Harris has joined with Snoop Dogg and Puff Daddy and can be heard on the upcoming new album from Sting.
To find out more about Brass-hoppers, visit the band's website.
For ticket information or questions regarding CALS events, contact the Campus Activities and Corey Union Office at 607-753-5574 or visit the CALS Web page.
Needs of patrons with mobility challenges are accommodated through special seating assignments. Advance notice is appreciated.
CALS is funded by the student activity fee and grants from the Auxiliary Services Corporation, the Cortland Fund, the Cortland College Foundation and the Strategic Initiative Advancement Fund.
---