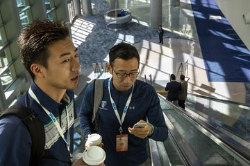 02/11/2020

Kensuke Nakata '10 is one of the leaders behind a movement to Americanize the athletic culture at Japanese universities.
A large part of his inspiration came from his time as an undergraduate at SUNY Cortland.
Nakata, who was featured in the Los Angeles Times, was amazed when he arrived on campus. The Osaka, Japan native saw so many students wearing Red Dragons gear and attending athletic events.
"It was a weird feeling," Nakata says. "In Japan, it's like people feel it's embarrassing to wear a school's name on your T-shirt."
Nakata currently works for Dome Corporation, Japan's official licensee of Under Armor. He hopes to create a similar school spirit among students and athletes in Japan.
Read more at latimes.com.
In other news:
---