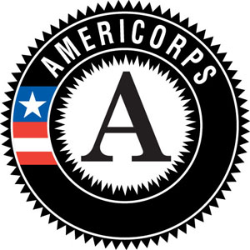 04/02/2013

SUNY Cortland's AmeriCorps members will be recognized Tuesday, April 9, by City of Cortland Mayor Brian Tobin as part of the first-ever Mayors Day of Recognition for National Service, a nationwide observance created by the Corporation for National and Community Service (CNCS).
More than 650 mayors across the country plan to participate by highlighting the value and impact of national service to local cities. Tobin plans to recognize more than 20 SUNY Cortland AmeriCorps members with certificates of appreciation.
The AmeriCorps group, which operates thanks to a federally funded program run through the College's Institute for Civic Engagement (ICE), is supported by a $235,187 grant provided by the CNCS and administered on the state level by the Office of Child and Family Services (OCFS).
SUNY Cortland AmeriCorps members serve 18 not-for-profit locations in Cortland County.
"Our AmeriCorps members are each doing exceptional work in the Cortland community," said Richard Kendrick, the local AmeriCorps project director and the director of the College's ICE. "Their success stories highlight the wide range of services the program and its members are providing to the community."
Those examples of accomplishment include:
· At the Inclusive Recreation Resource Center housed at SUNY Cortland, AmeriCorps members helped raise $4,440 for an accessibility project.

· At the Cortland Downtown Partnership, another member launched an ad campaign for the Cortland County Business Competition and helped make the Chill-A-Bration winter festival a huge success, selling all 500 mugs created for it.

· At the Cortland County Community Action Program, an AmeriCorps member assisted 18 families in each receiving a $200 grant to help with heating costs through the National Grid Care and Share Program.

· At Cortland Prevention Resources, one of the project's members started the organization's first LGBT youth group, helping both as a facilitator and a mentor.

· At the Lime Hollow Center for Environment and Culture, an AmeriCorps representative helped clean up and prepare an old mill site that will be used as a future day camp for children.

· At Cornell Cooperative Extension, another member modified an individual lesson on the importance of eating fruits and vegetables by making it kid-friendly. The AmeriCorps representative brought the training to third and fifth graders at McGraw Elementary School alongside Cornell Cooperative Extension's horticulturalist.

· At Greek Peak Adaptive Snow Sports, an AmeriCorps member working with a young boy suffering from brain cancer helped improve the child's walking ability. When the boy's physical therapist asked his father if anything had changed in the child's normal activities, the father mentioned that his son had skied five times within two weeks of beginning the program.
Beyond the meaningful work they perform at their individual host agencies, AmeriCorps members also participate in days of service locally. Their next group effort take place at the Cortland Blooms festival on Sunday, April 21, a community festival and green fair that features vendors, a farmers market and other activities.
For more information about the SUNY Cortland AmeriCorps program, visit the Institute for Civic Engagement website or call 607-753-2298.
---