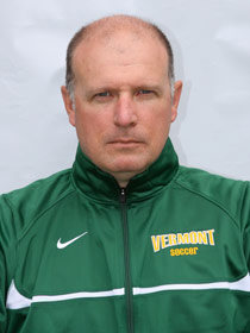 05/17/2012

Wade Jean has been named SUNY Cortland's men's soccer head coach, according to director of athletics Mike Urtz. Assistant coach Steve Axtell served as the program's interim head coach since January after the departure of eight-year head coach Dwight Hornibrook.
Jean is a veteran coach at all levels of collegiate soccer. Most recently, he served as the associate head coach at Division I University of Vermont from 2008-11. During that stretch, the Catamounts qualified for the America East playoffs three times and defeated two nationally ranked teams, including 13th-ranked Stanford University in 2010.
A native of St. Albans, Vt., Jean brings 24 years of successful college coaching experience to Cortland, including 10 years as a head coach in Division I and II. As the head coach at St. Michael's College in Colchester, Vt., from 2006-07, Jean led the Purple Knights to a combined 21-10-8 record. St. Michael's reached the Northeast-10 Conference tournament in each of his two seasons, and he was named NE-10 Coach of the Year in 2006.
Prior to his stint at Saint Michael's, Jean was the head coach at Division I Duquesne University in Pittsburgh, Pa., and compiled an 82-54-14 record over eight seasons. He was named Atlantic 10 Coach of the Year an unprecedented four times (1999, 2002, 2004, 2005) while leading the Dukes to a share of three consecutive A-10 regular-season titles (2003-05) and three appearances in the league's championship game. Duquesne also recorded four straight seasons of 13 or more wins from 2002-05. The Dukes were ranked 25th in the final 2003 national poll.
Jean arrived at Duquesne after serving five seasons as an assistant at two successful Mid-American Conference programs, Bowling Green State University (1995-97) and Illinois State University (1993-94). Prior to entering the Division I ranks, he was the head coach at Champlain College, a former National Junior College Athletic Association (NJCAA) power in Burlington, Vt., and was an assistant at his alma mater, Johnson State College in Vermont, for one year.
Academics have been an emphasis of Jean's throughout his career. His teams at Duquesne were regular winners of National Soccer Coaches Association of American (NSCAA) Team Academic Awards. In 2003-04, the Dukes had the second highest grade point average in the country. In 2006-07 at Saint Michael's, the Purple Knights also earned an NSCAA Team Academic Award and saw one of its student-athletes earn a spot on the ESPN The Magazine Men's Soccer College Division Academic All-America Team.
Jean is a native of St. Albans, Vt., and a 1990 graduate of Johnson State, where he was a four-year standout defensive midfielder. He helped lead the Badgers to three Mayflower Conference titles and was a co-captain as a senior. He also earned a master's degree from Illinois State in 1996.
Jean, who holds an NSCAA Advanced National Coaching License, has served as the executive director of the Nordic Soccer Club in Vermont. He and his wife, Marcella Pelkey, have two daughters, Sienna and Emma.
---