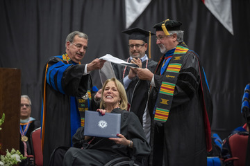 05/13/2019

A pair of distinguished individuals originally from Central New York received honorary doctoral degrees from the State University of New York during SUNY Cortland's Undergraduate Commencement ceremonies on Saturday, May 18.
Christopher Ashley is a Tony Award-winning Broadway director who built his successful career on a foundation formed at the SUNY Cortland campus.
Ann Cody is a three-time Paralympic athlete who has dedicated her life to combating discrimination and ensuring opportunities for people with disabilities around the world.
Christopher Ashley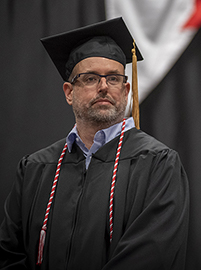 Christopher Ashley grew up on the SUNY Cortland campus, the son of the late SUNY Cortland Professor of Philosophy Emeritus Lawrence Ashley.
He was first introduced to the dramatic world of the stage as a student at Cortland's former Campus School and through the College's Drama Department as an extra in plays and musicals. Ashley has gone on to become a Tony Award-winning director and has done highly acclaimed work in off-Broadway and regional theatre productions as well as television and film.
Ashley has been nominated for three Tony Awards for Best Direction of a Musical, winning in 2017 for "Come from Away." He also won an Outer Circle Critics award and a Helen Hayes Award for outstanding musical direction. Ashley had previously won a Helen Hayes award in 2003 for his Kennedy Center Sondheim Celebration production of "Sweeney Todd," and an Obie Award and a Lucille Lortel Award for his off-Broadway production of "Jeffrey." He went on to direct a feature film based on the play, starring Patrick Stewart with cameo appearances by Nathan Lane, Sigourney Weaver, Olympia Dukakis and many others.
He graduated from Yale University in 1984, majoring in English and math. In 1987, he became one of the earliest graduates of the Drama League Directors Project, recognized as the nation's preeminent development program for young directors.
Ashley's musical Broadway productions include "Xanadu," "All Shook Up" and "The Rocky Horror Picture Show." He directed the feature film "Lucky Stiff," a musical comedy starring Jason Alexander and Dennis Farina.
He has served as artistic director at the prestigious La Jolla Playhouse in San Diego, Calif. since 2007. His productions include "Hollywood," "The Darrell Hammond Project," "His Girl Friday," "Glengarry Glen Ross," "A Midsummer Night's Dream," "Restoration," "Escape to Margaritaville," "Xanadu," and "Memphis," which won four 2010 Tony Awards including Best Musical. Most recently, he directed the musical stage version of the Disney movie "Freaky Friday."
Ann Cody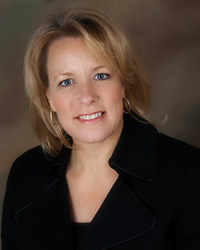 A medal-winning, three-time Paralympic athlete and internationally respected advocate for the rights of people with disabilities, Cody's dedication epitomizes many of SUNY Cortland's core values, including a commitment to excellence in achievement, the promotion of health and well-being and the inclusion of people of all backgrounds and abilities.
After becoming paralyzed at age 16 as a Groton High School athlete, Cody became a senior foreign affairs officer in the U.S. State Department, leading the department's international disability rights team. She joined the State Department in 2014, after more than 20 years of advocating for women's and disability rights in private and non-profit sectors. At the forefront of many international and national disability and human rights advocacy campaigns, she has testified before the U.S. Congress on implementation of the American's with Disabilities Act and has held leadership positions related to the Paralympic movement in the U.S. Olympic Committee, International Paralympic Committee and International Olympic Committee.
Cody earned a Bachelor of Fine Arts in Art and Design and a Master of Science in Leisure Studies/Recreation from the University of Illinois at Urbana-Champaign, where she began playing wheelchair basketball. She went on to represent the United States in the sport at three Paralympic Games, winning five medals, including one gold. Cody also won the 1989 Chicago Marathon and the 1990 Los Angeles Marathon in the women's wheelchair division.
She previously oversaw the Washington, D.C., office of BlazeSports America, a non-profit that provides athletic opportunities for people with physical disabilities. She helped develop the organization's policy efforts and led its international development initiatives, promoting the rights of people with disabilities through sport in Haiti, Jordan and Russia.
Cody was awarded the Paralympic Order — the highest honor bestowed by the International Paralympic Committee. She has also been recognized with the George M. Steinbrenner Sport Leadership Award, the National Consortium for Physical Education and Recreation for Individuals with Disabilities Congressional Award, the National Council of Youth Sports' National Administrator of the Year and the University of Illinois Alumni Association's Humanitarian of the Year Award. She was inducted into the U.S. Adaptive Sports Hall of Fame and named both USA Track and Field Disabled Athlete of the Year and Wheelchair Sports Athlete of the Year in 1990.
---