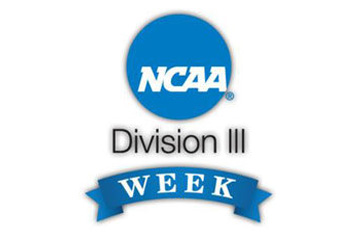 04/06/2015

A fundraiser benefitting the Special Olympics highlights SUNY Cortland's Div. III Week celebration, a fitting event given the College's yearlong recognition of the 25-year anniversary of the Americans with Disabilities Act (ADA).
All ticket proceeds from the SUNY Cortland women's lacrosse game Saturday, April 11, plus money raised by a raffle during the game will be donated to the Special Olympics New York Southern Tier chapter. The No. 5 nationally ranked Red Dragons host Oswego at 1 p.m. at the SUNY Cortland Stadium Complex.
Special Olympics athletes who attend Saturday's game will be recognized at halftime. SUNY Cortland students studying adapted physical education also will attend, as will local participants in the weekly adapted community recreation sessions run by the students. During the game, those students will coordinate activities for these community members in the grass area near the Stadium's White Field. Each year, roughly 250 SUNY Cortland students — the majority of them physical education majors — provide active opportunities for more than 200 people with disabilities in the community, from toddlers to adults.
Throughout 2015, in recognition of the ADA's historic anniversary, the College is celebrating both its role as an educator of advocates as well as its longstanding commitment to people of all abilities. The recognition includes a webpage devoted to SUNY Cortland adapted programs and special initiatives, stories about campus community members who promote accessibility and a winter/spring edition of the alumni magazine spotlighting graduates who are living out the work.
The NCAA Div. III Student-Athlete Advisory Committee (SAAC) formed a national partnership with Special Olympics at the 2011 NCAA Convention, and it has become one of many inspiring projects that the SUNY Cortland Athletics Department has taken on. The work aligns well with the Div. III philosophy of equally valuing academics, athletics and meaningful pursuits off the field.
The College has celebrated Div. III Week every year since its inception in 2012. This year, it runs Monday, April 6 to Sunday, April 12, and each day during the week, the College will spotlight a student-athlete who represents the well-rounded balance of the Div. III experience.
Jeff Vanzant
On the ice, the senior captain of the men's hockey team led a roster with nine freshmen in 2014-15. His work outside the rink was even more impressive. Over the past two seasons, the Barrie, Ontario, native has organized commemorative jersey raffles raising money for autism awareness and wounded veterans. Together they pulled in more than $9,500.
"A lot of the young guys look to the upperclassmen as leaders," Vanzant said. "It starts with doing good work off the ice. I guess that's where the idea came from."
Taylor Hudson
The senior All-American was good enough to play two sports at the Division I level but most coaches asked her to pick one. Not at SUNY Cortland, where she discovered the right two-sport balance. Hudson played three seasons on the women's soccer team and has earned three All-America awards in track and field. In March, she finished second nationally in the high jump and broke her own school record in the event.
"I wanted to play both and the coaches here were accommodating," she said. "When it came to what I wanted to do, they were willing to work with me."
Lindsey Minor
Minor, one of just three players in program history to be named a three-year team captain, started every game since her sophomore year. She was equally as dependable off the basketball court. During her sophomore year, Minor was matched with a local child with disabilities in one of her classes. Their friendship has continued long after the course ended. His family often traveled to her away games and she routinely checks in on the adapted physical education programs he enjoys at the College.
"He's been an inspiration to me," Minor said. "He's 100 percent one of the reasons I want to be a special education teacher."
Tim Beauvais
The senior goalkeeper set two major goals for his team this year: earn respect on the field nationally and also within the College's Athletics Department for a high team GPA. His school-record six straight shutouts were a big reason the men's soccer team advanced to the Sweet 16 for the first time since 1993. The sport management major's success in the classroom also secured him a spot on the NSCAA Scholar All-America first team.
"Since day one, our coaching staff stressed the importance of excelling in all that we do, including our schoolwork," said Beauvais, who likely will compete for a semi-professional team after graduation.
Liz Ingalls
Div. III student-athletes like Liz Ingalls make the most of every minute in the day. When she's not competing for the nationally fifth-ranked women's lacrosse team, the junior goalkeeper and economics major often is preparing free tax returns for community members. She's one of two dozen civic-minded students saving local residents tens of thousands of dollars through the Volunteer Income Tax Assistance program.
"Time management is key and fortunately I've been able to balance everything," said Ingalls, who ranked third nationally last season with a 5.89 goals against average. This summer, she'll pursue an internship with Merrill Lynch.
Note: the free tax prep services wrap up Sunday, April 12. They will be offered two more days: Saturday from 9 a.m. to 5 p.m. and Sunday from noon to 2 p.m. at Access to Independence, located at 26 N. Main. St.
---