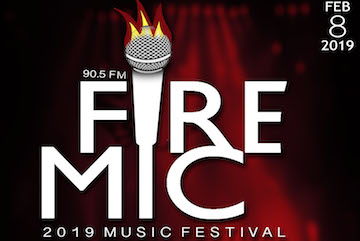 01/29/2019

Brooklyn rapper CJ Fly will headline the Fire Mic music festival, a first-of-its-kind event aimed at developing campus talent at SUNY Cortland and promoting the College radio station, in Van Hoesen Hall on Friday, Feb. 8.
The free festival begins at 5 p.m. on the first floor of Van Hoesen. It will feature campus performers from a variety of musical genres, as well as CJ Fly, a founder of the rap collective Pro Era, and frequent collaborator with fellow rapper Joey Bada$$, according to senior business economics major Chris Venant, promotional coordinator and treasurer for WSUC.
"It will be like a cheap Coachella," Venant joked. "There's a lot of great talent out there, and there are a lot of opportunities here that people don't know about. We're opening up the doors for people to see."
The festival is being held in the former Tomik Fitness Facility, which is located near the WSUC studio in Van Hoesen. One of the event's goals is to raise awareness of the station and develop a larger audience for the student-run station, Venant said.
The station broadcasts on 90.5 FM. It features student-run shows from 8 p.m. to midnight daily.
Students interested in performing at the event should contact festival organizers through WSUC's Instagram.
CJ Fly, whose real name is Chaine Downer Jr., was featured on many of the Pro Era collective's projects and towards the end of 2013, he released his critically acclaimed mixtape "Thee Way Eye See It." In 2016, he released his debut studio album, "Flytrap." Since the release of "Flytrap," CJ Fly has released videos for single "Now You Know", a track that was premiered with Billboard magazine in September 2016 and featured in the VH1 television series "Love & Hip Hop in 2017.
For more information, contact student Chris Venant. The event is sponsored by WSUC 90.f FM.
---