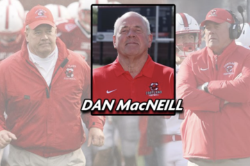 01/28/2020

Dan MacNeill has announced his retirement after 23 years as head coach of the SUNY Cortland football program. He will continue to work at Cortland in a part-time capacity in non-coaching areas to be determined.
Greg Roskos, Cortland's associate head coach and an 11-year member of the Red Dragon coaching staff, will serve as the interim head coach as a national search is conducted.
"I have a feeling of immeasurable gratitude to the SUNY Cortland administration, from the top down – from President Erik Bitterbaum to my athletic director, Mike Urtz, and all those administrative entities that have facilitated my service as head football coach for the past 23 seasons," said MacNeill. "I'm humbled to be allowed to transition off this ride and continue to serve my beloved school and program in another constructive manner.
"I have gratitude to all alumni, parents and fans that have generated and facilitated positive energy, support and service to the Red Dragon cause upon my behest. I have gratitude for all assistant coaches and support personal that served under my guidance and sacrificed in our common cause. Hail to the many that fed, nourished and developed Red Dragon Football Warriors."
MacNeill's teams posted a combined record of 155-85 (.646) and earned 17 postseason berths, including six NCAA tournament showings. MacNeill ranks first at Cortland in both career victories and winning percentage.
MacNeill's Cortland squads played as an independent from 1997-99 and were a member of the New Jersey Athletic Conference (NJAC) from 2000-14 before joining the Empire 8. In the Red Dragons' first season as an Empire 8 member in 2015, MacNeill and his assistants were named the Empire 8 Coaching Staff of the Year, while MacNeill also was honored as the HERO Sports Division III National Coach of the Year and the D3football.com East Region Coach of the Year. Cortland finished that season 9-3, including a 6-2 mark to share the Empire 8 crown and earn an NCAA playoff victory before losing at nationally second-ranked Linfield in the second round.
MacNeill was named NJAC Coach of the Year in 2008 and 2012, and he was a finalist for 2008 Liberty Mutual National Coach of the Year honors after Cortland finished 11-2 and advanced to the NCAA quarterfinals before losing at eventual national champion Mount Union. The Red Dragons were recognized as the top Division III team in the East by winning both the Lambert Trophy and the ECAC Team of the Year awards, and their 11 victories and national quarterfinal appearance matched school records.
Under MacNeill, Cortland won NJAC titles in 2008 and 2012 and also was first in the conference in 2005, 2006, 2007 and 2010. The Red Dragons were also 2019 Empire 8 co-champions in addition to their 2015 title. His squads tied for ninth nationally after advancing to the second round of the NCAA playoffs in 2010, 2012 and 2015, as well as a tie for ninth in 1997 in a 16-team field and a tie for 17th in 2005.
MacNeill's teams won seven or more games 13 times, including 10 victories in 2010 and nine in 2002, 2006, 2011, 2012 and 2015 in addition to the 11-win 2008 campaign.
In addition to the six NCAA appearances, MacNeill's teams won the inaugural New York Bowl in 2017 and qualified for the game again in both 2018 and 2019 (the 2018 game was canceled due to the lack of Liberty League opponent). The Red Dragons also won ECAC bowls in 2002, 2007 and 2012, and they played in five other ECAC postseason games.
Among MacNeill's other highlights at Cortland were a 32-31 win over nationally second-ranked and eventual national semifinalist Rowan University in the 2001 season on the final game ever played on Carl "Chugger" Davis Field, and a 13-10 record against rival Ithaca College in the annual "Cortaca Jug" game, including seven straight wins from 2010-16. Cortland's victory at Ithaca's during MacNeill's inaugural season in 1997 was the Red Dragons' first road win versus Ithaca in 30 years, and he led Cortland to a total of seven road wins versus the Bombers.
Entering the 2019 season, MacNeill coached 29 All-Americans, 90 All-East and 77 All-ECAC players at Cortland. Those players included two Gagliardi Trophy national Player of the Year finalists – defensive tackle Adam Haas in 2006 and quarterback Dan Pitcher in 2011 – along with 1997 ECAC Upstate New York Player of the Year Omar Darling, 2007 ECAC Southeast Rookie of the Year Brian Haas, and 2013 ECAC South Defensive Rookie of the Year Tristan Laurore.
In addition, MacNeill's players earned 50 All-Empire 8 awards in five years, including 2015 Rookie of the Year Donny Davis and 2018 Special Teams Player of the Year Nick Mongelli. His players also garnered 204 All-NJAC honors, highlighted by the selection of Adam Haas as the 2005 Defensive Player of the Year, Bryan Wiley as the 2009 Defensive Player of the Year, Justin Autera as the 2010 Co-Offensive Player of the Year and Dan Pitcher as the 2011 Offensive Player of the Year.
"Many will look to records, achievements and stats made during my time as head coach," said MacNeill. "Certainly those tell a story. I, too, celebrate noteworthy footnotes of a competitive existence. However, I consider my crowning success in relationships. The established Red Dragon den culture. All shared with young men drawn to become a Red Dragon warrior. All defined or defining 'US' and, most satisfying, those that competed and completed that ('OUR') success journey.
"Every team. Every teammate. Every Red Dragon remains a cherished memory. All a hearty smile away."
Prior to his arrival at Cortland, MacNeill was an assistant coach at Division I-AA Villanova University for 13 years from 1984-96. He was the Wildcats' defensive coordinator for the last nine of those seasons. One of the nation's top defensive coaches, MacNeill's charges consistently ranked among the best defensive teams in the Yankee Conference. His 1991 squad finished the year first nationally in scoring defense, second in total defense and fifth in rushing defense while leading the Yankee Conference in every defensive category. The Wildcats placed first nationally in rushing defense in 1992. In 1996, Villanova finished 8-4 and earned a berth in the NCAA Division I-AA playoffs.
While at Villanova, MacNeill coached three AFCA/Kodak First Team All-Americans, one Associated Press All-American, six first team All-Yankee Conference performers, six first team All-ECAC selections and one player who went on to the NFL. He received a master's degree in educational administration from Villanova in 1994.
A 1979 Cortland graduate with a Bachelor of Science in Physical Education, MacNeill was a four-year Red Dragon letterwinner and three-year starter at linebacker and defensive tackle. He served as a team tri-captain during his senior campaign in 1978. In his last varsity game against Southern Connecticut State, he was credited with 11 unassisted tackles and three quarterback sacks.
MacNeill began his football coaching career as an assistant at Port Byron (N.Y.) Central High School from 1980 to 1982, prior to being named as a graduate assistant coach at Ithaca College. He coached Ithaca's junior varsity team in 1982 and was in charge of the Bombers' receivers in 1983.
A native of Walton, N.Y., MacNeill was an all-league defensive end at Walton Central High School as a senior in 1974. MacNeill and his wife, Sherrie, have two daughters — Mikayla and Maura.
---