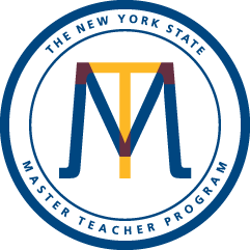 04/15/2014

Twenty-seven new math and science teachers from across Central New York have been selected to join SUNY Cortland's Master Teacher program and hone their craft, keeping the College the largest of 10 regional hubs for New York state's new teacher development program.
The recent batch of local educators brings the total number of Master Teachers trained at the College to 62. Statewide, there are 319 Master Teachers in training. They all are part of the inaugural cohort that brings a content-rich focus to the science, technology, engineering and mathematics (STEM) discipline.
Gov. Andrew Cuomo announced four regional sites for the program in the fall, including SUNY Cortland. That list of regional centers since has grown to 10.
SUNY Cortland's newest crop of teachers comes from 17 different school districts throughout Central New York. Several are graduates of SUNY Cortland, which runs the largest accredited teacher education program in the Northeast.
Like the initial 35 Central New York Master Teachers selected in the fall, they were chosen for their classroom effectiveness in science or math. They will meet routinely as a group for mini-courses and workshops and pursue individualized development plans in their content areas. They then will share what they've learned with other working educators and SUNY Cortland pre-service teachers.
The program, announced by Gov. Cuomo in 2013, requires a four-year commitment to mentoring other secondary school teachers and helping both prospective educators and new teachers. Master Teachers also engage in peer mentoring and intensive content-oriented professional development opportunities throughout the academic year. The award comes with a $60,000 stipend ($15,000 annually for four years). The idea is to give outstanding teachers in math and science an incentive to continue teaching in New York while sharing their methods, experience and insight with fellow teachers.
The state's newly named Master Teachers bring more than 2,700 years of combined full-time teaching experience in subjects that include calculus, algebra, physics, earth science, chemistry, engineering design and development and genetics.
On Friday, Aug. 15, the Master Teachers from across the state will attend a first professional development conference, "New York State Master Teachers: Inspiring the Next Generation of STEM Leaders."
The other existing master teacher hubs are the University at Albany, representing the Capital Region (23 participants); SUNY Geneseo, representing the Finger Lakes Region (18 participants); Stony Brook University, representing the Long Island Region (42 participants); SUNY New Paltz, representing the Mid-Hudson Region (37 participants); SUNY Oneonta, representing the Mohawk Valley Region (19 participants); Math for America, representing the New York City Region (13 participants); SUNY Plattsburgh, representing the North Country Region (34 participants); Binghamton University, representing the Southern Tier Region (23 participants); and SUNY Buffalo State, representing Western New York Region (48 participants).
The newest SUNY Cortland Master Teachers include:
Naomi Ali, Syracuse City School District
Kathleen Austin, Auburn City School District
Carol Brafman, Cortland City School District
Brian Christopher, Liverpool School District
Charles Clinton, Jamesville-DeWitt School District
Suzanne DeTore-Wilsey, Syracuse City School District
Maggie Estlinbaum M.A.T. '06, Jordan-Elbridge School District*
Karrie Frey, Tully School District
Ann Furcinito, Syracuse City School District
Jill Gravante, Baldwinsville Central School District
Theresa Groman, Jamesville-DeWitt School District
James Hefti, Pulaski School District
Joel Hirschey, North Syracuse School District
Matthew Hudson, Baldwinsville Central School District
Anne Kelley, Fayetteville-Manlius School District
Sean Kelly, Cazenovia Central School District
Christopher Ludden, Baldwinsville Central School District
Robert Nasiatka, Homer School District
Roberta Palmiotto, Union Springs School District
Michael Picciotti, LaFayette School District
Nancy Raicht M.S.Ed. '01, Jamesville-DeWitt School District*
Scott Sammon '86, M.S.Ed. '88, North Syracuse School District*
Julie Sherman-Fogu, Syracuse City School District
Kevin Sommer, Jamesville-DeWitt School District
Ellen Spencer, Marcellus School District
Jason Williams, Syracuse City School District
Eric Wojtalewski, Solvay Union Free School District
* SUNY Cortland graduate
---