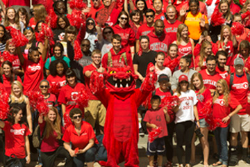 08/17/2015

The proof can be traced to NCAA championship trophies, national honor roll recognition and alumni accomplishments big and small: SUNY Cortland Red Dragons find countless reasons to take pride in their college.
That's why SUNY Cortland will punctuate the first week of fall semester classes with Red Dragon Pride Day — its own version of the national College Colors Day — on Friday, Sept. 4. The annual event, now in its third year, invites all students, faculty and staff members to put their school spirit on full display by sporting their favorite red Cortland gear and joining a campus photo at 1:40 p.m. on the steps of Corey Union.
All campus community members also can enjoy a free ice cream social from 1 to 3 p.m. Friday in Corey Union, sponsored by Alumni Engagement. And as a new incentive in 2015, the first 100 students who show up to be part of the major photo will receive a free t-shirt provided by the SUNY Cortland Alumni Association. SUNY Cortland SPARK, formerly the Student Alumni Association (SAA), also serves as a co-sponsor of the event.
"This is a great time to celebrate pride in SUNY Cortland," College President Erik J. Bitterbaum said. "During the summer break our women's lacrosse and our baseball teams won their very first national titles, and both Consumers Digest and the Princeton Review ranked SUNY Cortland among the nation's best colleges."
Alumni, parents and local community residents near and far can join the day's fun by snapping their own photos in SUNY Cortland gear and sharing them in the Red Dragon Pride Day Facebook event, on Twitter and on Instagram with #CortlandPride.
The College Store will get in on the action too, offering a 20 percent discount on all red apparel in store Thursday, Sept. 3, and Friday, Sept. 4. Alumni, parents and fans of the College also will receive a 20 percent discount online for red apparel. They should enter the word "alumni" in the coupon box when ordering to receive the discount.
Join the day's Facebook event or visit reddragonnetwork.org/red to stay up to speed with Red Dragon Pride Day buzz.
---