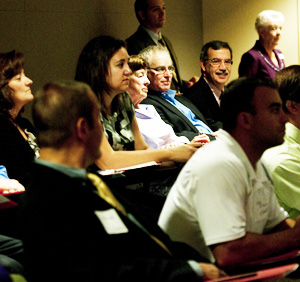 11/02/2012

Approximately 70 to 80 educational administrators and graduate interns are expected to participate in the fourth annual Fall 2012 Francis J. Cheney Educational Leadership Breakfast Conference on Thursday, Nov. 1, at SUNY Cortland.
Titled "The School Principal: Version 2012," the event in Corey Union begins with registration and a continental breakfast at 8 a.m. followed by continuous professional development programs from 8:30 a.m. to 11:30 a.m.
Sponsored by the College's Educational Leadership Department, the half-day program aims to provide the current and future school principals and superintendents with valuable information and an opportunity to meet and network with others who will be helpful resources throughout their careers.
Geared to school district and building administrators, administrative interns and certificate of advanced studies (C.A.S.) majors, the conference is free. The deadline to register is Wednesday, Oct. 24. For a registration form or for more information, contact Janice Eaton in the College's Educational Leadership Department at (607) 753-2444.
The morning's program will emphasize the importance of establishing a positive and collaborative culture that fosters continuous improvement. A panel of experienced building principals from the region will facilitate an interactive discussion on topics that include:
• personal characteristics and traits to build and sustain a culture of continuous improvement;
• building and maintaining morale in times of high-stakes reform;
• how to manage the day-to-day demands and the new initiatives; and
• conducting teacher evaluation conferences.
"I think the expectations now on building principals is tremendous," said Kevin Mack, chair of the Educational Leadership Department, about this year's conference content, which was identified during the 2012 Francis J. Cheney Educational Leadership Conference held this past summer at the College. "The state has presented numerous changes and it's up to us on how to implement them."
The panel, moderated by retired Trumansburg Middle School principal Gary Astles, includes John Durkee, senior high school principal at Marcellus Central School District; Denise Cook, elementary principal at Deposit Central School District; Thomas Turk, junior high principal at Homer Central School District and Ron Gorney, elementary principal at Casey Park School in the Auburn Central School District.
The conference is underwritten by Louise M. Conley, Ph.D., and the Cortland College Foundation. Conley, the granddaughter of Francis J. Cheney, who served as Cortland Normal School principal from 1891 until his death in 1912, currently chairs the Cortland College Foundation Board of Directors.
The conference's mission is to create a learning community for educational leaders that enhances and supports the success of all students through ongoing professional development, refinement of leadership skills and networking.
---