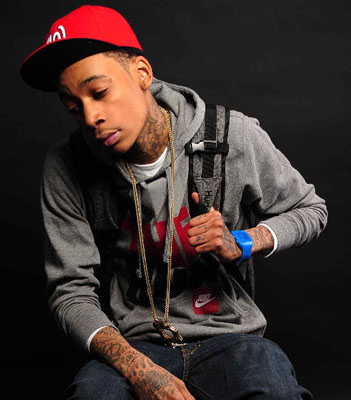 03/13/2012

A few words of advice for SUNY Cortland students seeking tickets to the College's Spring Fling concert, headlined this year by Grammy-nominated rapper Wiz Khalifa: show up early.
"We expect to sell out very quickly," said junior Delvin "D.J." Johnson, one of the co-chairs in charge of lining up music acts for the College's Student Activities Board.
Tickets for the concert, scheduled for 8 p.m. on Saturday, April 28 in Alumni Arena, go on sale Saturday, March 24. Roughly 3,500 tickets, which cost $20 for SUNY Cortland students and $30 for the public, will be sold.
The popularity of the 24-year-old rapper, who in 2011 hit No. 1 on Billboard magazine's Top 100 Chart with his hit single "Black and Yellow," should create a high demand for tickets.
SUNY Cortland students, however, have first priority when tickets go on sale. Tickets will be sold exclusively to students from noon to 7 p.m., or until they are sold out at the Corey Union Information Desk.
Students will be allowed to purchase one ticket and must show their College ID. Students will not be allowed to purchase tickets for their friends, even if they have that friend's Cortland ID.
"I've been telling people not to wait," Johnson said. "I'd recommend to be in line on the very first day, as close to noon as possible."
Tickets will stay on sale exclusively to SUNY Cortland students on Monday, March 26, and Tuesday, March 27. They will be sold from noon to 7 p.m., or until they are sold out, at the Corey Union Information Desk.
If tickets are remaining, they will be sold to faculty, staff and the general public from Wednesday, March 28, through Friday, March 30. Tickets will be sold from noon to 7 p.m. at the Corey Union Information Desk.
Khalifa joins a long list of big-name artists to play SUNY Cortland's Spring Fling, a list that includes the Black Eyed Peas, O.A.R. and the Fray. Kid Cudi, last year's headliner, played to a sold-out arena.
Khalifa, a Pittsburgh-raised rapper, has three albums to his credit and his own label, Taylor Gang Records, under parent company Atlantic Records. "Black and Yellow," a song named after the colors associated with professional sports teams in Pittsburgh such as Steelers football and Pirates baseball, established Khalifa's mainstream success. The track earned him a nomination for Best Rap Song at the 2011 Grammy Awards and spawned several remixes and parodies by other recording artists.
"Rolling Papers," Khalifa's debut album with Atlantic, came out in March and hit No. 2 on the Billboard 200 chart. It features other mainstream hits such as "Roll Up" and "No Sleep."
Khalifa also stars in a recent television commercial for Bing, the Internet search engine.
---