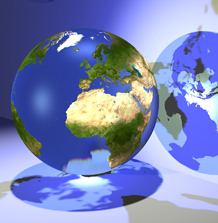 02/24/2015

A development sociologist at Cornell University will examine how to feed a growing global population without further compromising the planet's resources using rural Mozambique as an example on Wednesday, March 4, at SUNY Cortland.
Professor Wendy Wolford's talk, titled "Farming for the Future: Competing Models of Agriculture and
Wendy Wolford
Development in Rural Mozambique," will begin at 4:30 p.m. in Moffett Center, Room 2125.
A reception will precede the presentation at 4 p.m. in the Rozanne M. Brooks Museum, Moffett Center, Room 2126. The Brooks series events are free and open to the public.
The lecture continues the 2014-15 Rozanne M. Brooks lecture series, themed this year on "Culture, Technology and Sustainability." The series explores the present and future of a planet with a rapidly growing population, critical food shortages, climate change, technology and its role in the progression towards a "livable planet," as well as other factors that affect the quality of life across the world. Presenters will discuss these problems and offer possible solutions.
At Cornell, Wolford teaches courses in Development Theory, Qualitative Methods, Political Ecology, and Social Movements.
Wolford's background in geography, economics and international development has influenced her considerable research on social movements and resistance, agrarian societies, political ecology, land use and reform and critical ethnography. Her findings have been published in Journal of Peasant Studies, Annals of the Association of American Geographers, Development and Change and Journal of Agrarian Change.
Graduating cum laude from McGill University with a bachelor's degree in economics and international development, Wolford received her master's and doctoral degrees in geography from the University of California, Berkeley. At UC Berkeley in 2002, she was awarded the J. Warren Nystrom Award for Best Dissertation in Geography.
The 2014-15 Brooks Lecture Series is sponsored by a grant from Auxiliary Services Corporation (ASC) and the Cortland College Foundation.
For more information, contact Sharon R. Steadman, SUNY Cortland professor of sociology/anthropology and Brooks Museum director, at 607-753-2308.
Prepared by Public Relations Office intern Kathryn Monno
---