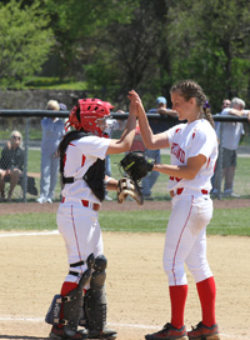 05/16/2012

The SUNY Cortland intercollegiate athletics program finished first in the State University of New York Athletic Conference (SUNYAC) Commissioner's Cup standings for the 2011-12 school year. Cortland has won the Commissioner's Cup, which is awarded for overall sports excellence, in 15 of the 16 years that it has been awarded, including the last nine seasons.

Cortland finished with an average score of 8.56 points. Geneseo was second with an average score of 8.12 points.
Commissioner's Cup points are awarded based on each team's finish in the SUNYAC standings, both during the regular season and in league postseason tournaments, when applicable. The first-place school in each sport receives 10 points, second place receives nine points, and so on. A school's regular-season finish is added to its postseason finish and is divided by two to determine the points for each sport. The total points earned are then divided by the number of conference sports the school sponsors.
Cortland won eight league crowns: field hockey, women's volleyball, women's indoor track and field, baseball, men's lacrosse, women's lacrosse, men's outdoor track and field, and women's outdoor track and field. The Red Dragons were also league runner-up in six sports: women's soccer, men's cross country, men's basketball, men's indoor track and field, men's swimming and diving and softball. The SUNYAC sponsors 20 sports.
Cortland trailed Geneseo, 8.16 to 7.98, entering the spring, but surpassed the Knights by earning five conference crowns and one runner-up finish during the six-sport season.
---